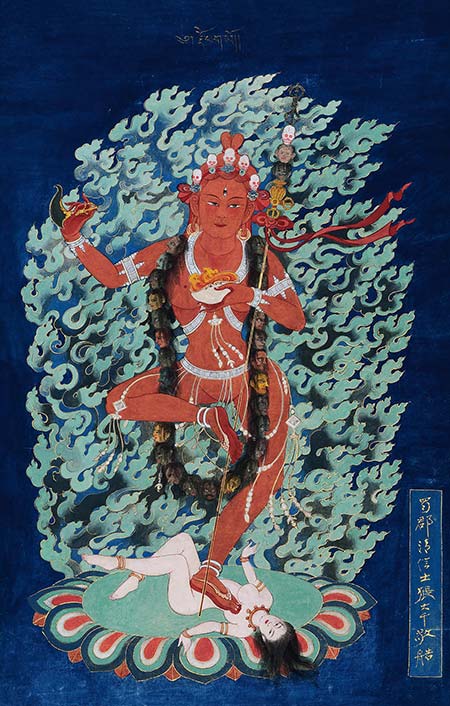 The Buddhism-themed ink painting by Zhang Daqian [Photo provided to China Daily]
A Buddhism-themed ink painting of master Zhang Daqian, which was among dozens of his copies of Dunhuang murals, fetched 63.8 million yuan ($9.7 million) at a Beijing auction on Saturday night.
The painting portrays a Dakini goddess in Tibetan Buddhism which literally translates as "sky goer" in Tibetan, and features a heavy coloring scheme. It was hammered by Beijing Poly International Auction during its major spring sales.
A devout Buddhist, Zhang lined the subject matters in this painting with expensive gold powders.
Zhang arrived at the Mogao Caves in Dunhuang, Gansu province, in 1941 with a team of assistants. During their stay for two and a half years, Zhang copied many murals inside the caves. He later exhibited these copies in Chengdu, helping publicizing the excellence of Dunhuang art.
The sold painting came from the collection of a Taiwan collector. It was believed to be transported to Taiwan along with other of Zhang's copies and art collection, when he was aboard a plane heading for the island in 1949.
Related: Classical Chinese paintings stand out at Beijing auction