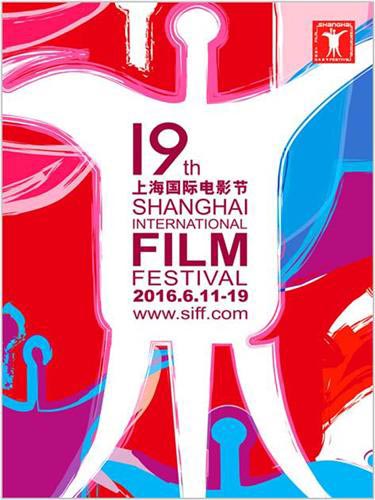 Poster for 2016 Shanghai International Film Festival. [Photo/Siff.com]
The 19th Shanghai International Film Festival (SIFF) will closely follow the trends of today's film industry, says film expert Liu Jia.
Aside from the main competition, this year's festival will be highlighted by its film forums and film screenings. Liu Jia, an expert in studying films and visiting professor at the Beijing Film Academy, says the festival will tightly grasp the hot topics of today and follow development trends in the industry. Scholars and experts will be invited to forums to discuss the existing problems and future of the industry.
SIFF has become a key financing market for films in Asia, and this year marks the 10th year since the establishment of "Film Project Venture". More than 40 films were produced from the venture project, including Silver Bear-winning Black Coal, Thin Ice, Twelve Citizens, The Piano in a Factory and Master.
"The Shanghai International Film Festival has industrialized; it is now a platform that integrates capital, filmmakers and film projects. Films can find capital here, and vice versa," Liu said.
SIFF has always worked to discover the films the market needs.
"Film festivals have their own roles. They may not always promote the blockbusters. Some are looking to find works that may push forward the entire industry," Liu added. "The small-budget film Crazy Stone gained enormous success from SIFF. People now realize that film festivals aren't all about commercial films and that art and business are sometimes compatible."
Serbian director Emir Kusturica will head the jury. Other jurors include Canadian director Atom Egoyan, Chinese actress Karena Lam, Italian director Daniele Luchetti, Chinese director Pema Tseden, Mauritanian director Abderrahmane Sissako and Chinese writer Yan Geling.
Fourteen shortlisted films will race for the Golden Goblet Award as the main competition during SIFF, including three Chinese films, Cock and Bull by Cao Baoping, De Lan by Liu Jie and Soul on a String by Zhang Yang. Other films that will compete include Werner Herzog's Salt And Fire, Antti Jokinen's Pahan Kukat (Flowers of Evil) and Andreas Gruber's Hannas schlafende Hunde (Hanna's Sleeping Dogs).
There will be a special screening for Pixar animations, the Harry Potter series, a Retrospective of the Films of Leslie Cheung, a screening of Fox's Oscar-winning film special and a nostalgic showing of the sci-fi classic Independence Day. Other events will include a Tribute to Masters, Classic 007 Films Screening, Oscar Film Panorama, Jackie Chan Action Movie Week, New Works of Renowned Japanese Directors, Korean Films, Retrospective of Recent Works of Woody Allen, and a 4K Restored Classic Film Panorama. Forty-five cinemas in Shanghai will participate in the film screenings. Recent domestic hits such as The Three-Body Problem, The Message and Time Raiders also will be featured.
Cold War 2, the upcoming Hong Kong crime thriller directed by Longman Leung and Sunny Luk, will open the film festival.
The 19th Shanghai International Film Festival will be held from June 11 to 19.
Related:
Russian film fest kicked off in Beijing, Xi'an
Ninja Turtles 'Journey to the West' in special movie posters