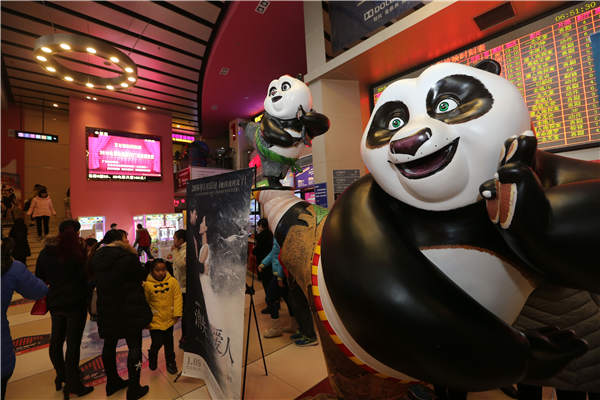 China's film market keeps growing, with an increasing number of domestic productions and coproductions, such as the Sino-US animation Kung Fu Panda 3. Photos provided to China Daily
The country's box office is raking in big bucks but needs to change its game, experts on Chinese cinema say. Wang Kaihao reports.
China is the world's second-largest market for films but money alone isn't doing it, two new reports on the industry point out.
While box-office income was 44 billion yuan ($6.7 billion) last year, some experts say more quality and less commerce will help.
This year's The Report on Chinese Film Art and The Research Report on Chinese Film Industry were released in Beijing last week to evaluate the landscape of the country's cinema in 2015. The reports are co-compiled by the China Film Association and the China Federation of Literary and Art Circles annually.
The Report on Chinese Film Art was first released in 2008, analyzing artistic achievements of Chinese films in nine areas, including directing, performance and cinematography. The Research Report on Chinese Film Industry was launched a year earlier to focus on the issues and opportunities in the country's cinema business.
The reports have been compiled as two books.
Though China produced 686 feature-length films and had 31,627 big screens in cinemas by the end of last year, Zhang Hong, deputy director of China Film Association, says Chinese films need more variety, among other requirements.
"The capacity to express our own values isn't strong enough," Zhang said at the reports' release. "In spite of quantity, there are not too many films of depth."
Most films can't win praise from critics and become commercial successes at the same time.
Some productions are simply mindless entertainment, he says, while many others use high-end technology but are "hollow" in their core. He urges filmmakers to calm down in a highly distracting market where lots of money is available.
Liu Haodong, editor-in-chief of the two reports, says they have found the challenges that exist in the film industry and are trying to push filmmakers in the right direction.
"The data we used were from open sources, and there are no surprises," says Liu. "But we want to express our thoughts based on the research results."
He says a new problem in 2015 was the use of films as financial tools in the face of overwhelming marketing.