The beautiful pastries of the Tatar ethnic group
The food of the Tatar ethnic group is rich in variety and good taste, especially its pastries. Women from the Tatar ethnic group are good at making traditional pastries which have been passed down from their ancestors generation after generation.
For traditional Tatar food, cheese, honey, milk, jam, and cream are the main ingredients, and the ingredients are all home-made and additive-free. The Tatar pastry is delicate, tasty and renowned in Xinjiang throughout the country. Let's take a look at some of them.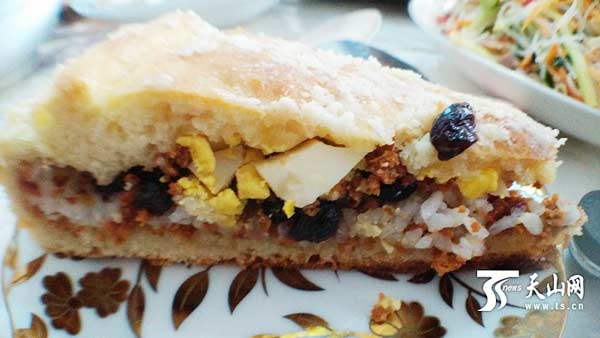 Gubadia [Photo/ts.cn]
1. Gubadia
A kind of baked cake stuffed with meat, rice, egg and dried fruits. First, wash the rice and dry it under the sun, and then put it in to the heating stove covered with cream, dried apricot slices, raisins and other ingredients. The cake is crisp outside and soft inside, smelling delicious.