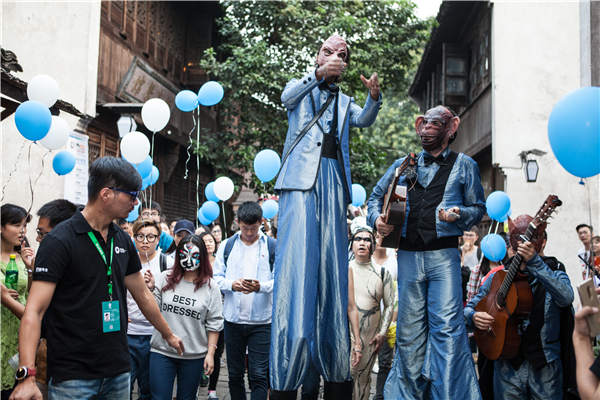 The Wuzhen Theater Festival, co-founded by Huang Lei, has turned the small town into a carnival of performing arts since its launch in 2013. [Photo provided to China Daily]
In 2003, Chinese actor and director Huang Lei arrived in Wuzhen, a small town about an hour's drive from Shanghai, to direct and star in a TV series called Lost Time.
The series was a hit and enabled the lesser-known locale to become a popular tourist destination.
Later Huang opened a bar there, also called Lost Time.
Simultaneously, the idea of creating a theater festival for Wuzhen came to his mind. Huang shared his idea with his friends Stan Lai, one of Taiwan's leading theater directors, and Meng Jinghui, a pioneering theater director based in Beijing.
With the help of Chen Xianghong, president of the Wuzhen Tourism Co Ltd-the company that runs the town's mainstay business-a grand theater was built at a cost of 400 million yuan ($62 million).
Old houses and warehouses were renovated and turned into performance venues that combine modern and traditional decor.
Their brainchild, the Wuzhen Theater Festival, was launched in 2013. Aiming to display international theatrical works and offer young talent a platform from which to start their careers, the festival has so far presented 43 international plays and attracted more than 85,000 people.
The festival will be held from Oct 13 to 22 this year, the three co-founders said at a media conference in Shanghai on May 25.
Themed "Gaze Beyond", this year's festival will continue to showcase theater at 12 indoor venues and six outdoor stages.
The festival will also include a daily carnival that will see hundreds of artists performing in the streets.