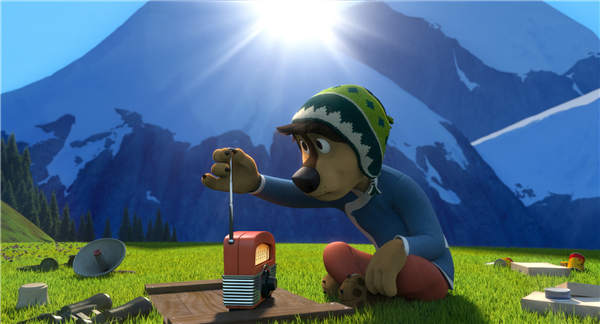 The upcoming 3-D animation film Rock Dog will feature a Tibetan mastiff pup pursuing his musical dream. Photos provided to China Daily
The makers of an animation film about a Tibetan mastiff pup-made with an international crew-hope to make a global splash with the movie. Xu Fan reports.
Zheng Jun, one of China's rockers from mid-1990s, says he's now an "animation expert".
Sitting cross-legged on a sofa, a smiling Zheng looks an unlikely rocker.
But he was once a big name in Chinese rock 'n' roll.
The 49-year-old has written and sung a host of songs, which can still be heard in China's karaoke rooms.
Then, filmmaking-a surprising shift after more than two decades in music-caught his fancy seven years ago.
Zheng, along with a few friends, then decided to adapt his first graphic novel, Tibetan Rock Dog, into a big-screen animation film in 2009.
The film is about a Tibetan mastiff pup, whose family has guarded a sheep village for generations.
But the pup, ignoring its father's wish that it take up the family profession, embarks on a journey to a metropolis to pursue his musical dream.
The 3-D animation film, which is set for a national release on July 8, has two versions, unusual for a Chinese-financed animation movie.
The English version features voiceovers by Luke Wilson and Eddie Izzard, while the Mandarin one has crosstalk performer Guo Degang and his son Guo Qilin.