Big brands in the bag
I can't recall a moment when I was fascinated by luxury goods but I remember my instinctive reaction about 15 years ago when a young colleague showed her newly-bought Louis Vuitton handbag - at a price nearly five times her monthly salary.
"So do you want to starve in the coming months?" I asked. "Why not put the money in a bank account and earn interest?"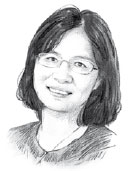 Back in 2000, such extravagance was unimaginable to me, someone who earned an average salary in Beijing and was cautious with every penny earned.
"It IS a universal brand!" she responded, pointing to the logo. "It can be a symbol of my status."
The answer silenced me, and to some extent reshaped my understanding of China's consumption market.
I used to believe luxuries were out of reach for the salaried class, and were meant for the nouveaux riches who pursued material possessions and lavish lifestyles, movie stars with Tiffany jewelry and Chanel dresses, and private entrepreneurs eager to flaunt their success with Hermes belts and Rolex watches.
I was wrong. I just ignored the craving of white-collar workers, especially young people, to be identified with success and style. They were a captive market for top brands.
In the following decade, as a business reporter, I witnessed, and sometimes chronicled, the boom in China's luxury market.
The first decade of the 21st century saw top brands swarming to China, from LVMH to Armani, from Givenchy to Dior, from Bentley to Rolls-Royce. They poured in money to open glossy new shops and announced aggressive plans to enhance their presence.
Outside the nation, the buying mania hit global headlines often as Chinese tourists swept boutiques of Gucci, Hermes and Burberry in Paris, New York and Tokyo, asking the typical question: "Which is the most expensive?"
In 2004, Goldman Sachs predicted China - as the ranks of its middle class continued to swell - would become the world's second-largest market for luxury goods within 10 years. "The market is about to take off," a PricewaterhouseCoopers report echoed.
But the Chinese market easily beat the predictions. In 2013, Chinese spent over $102 billion on luxuries, roughly 47 percent of the global total, of which $28 billion was in the mainland market and the remaining $74 billion overseas. Last year luxury spending was $113 billion, according to consulting firm Bain &Co.
In response to the market conditions, China Daily's business news section created a position of "luxury reporter" in 2006 and started a two-page special coverage on the trend.
Topics ranged from CEO interviews, market trends, strategies of different companies and new products. The reporter was the envy of colleagues as she got opportunities to see the finest products and to talk with the world's richest, most fashionable and successful bosses, designers, and sometimes consumers.
However, a fragile global recovery and a slowing Chinese economy has taken some sheen off the sector.
"I don't like branded, logo-covered handbags," says a friend working in a US firm. "They are everywhere, on the street, on buses, on subways. Isn't it silly to carry one?"
The writer is a member of China Daily's editorial board.