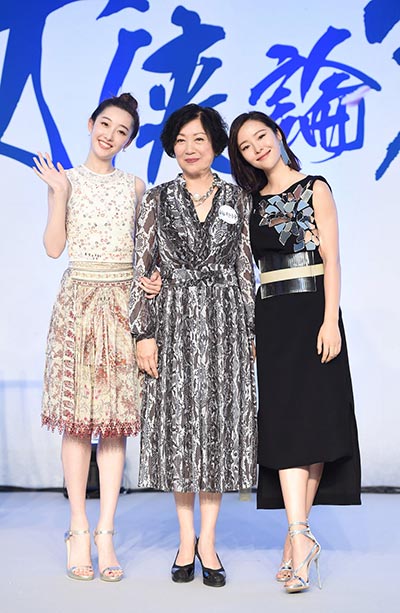 Actresses Jiang Mengjie (left), Bao Qijing (center) and Jiang Yiyan. [Photo provided to China Daily]
Almost 40 years after Derek Yee shot to prominence starring in the 1977 film
Death Duel
, he returns to the genre as a director.
Sword Master, a remake of the 1977 classic, will open in Chinese mainland theaters on Aug 9.
The producer Tsui Hark and director Yee are both known for Hong Kong martial arts films.
Yee, who shifted to directing from acting in early 1980s, then went on to win a series of top awards in the Hong Kong film industry.
In the latest movie which is based on Taiwan novelist Gu Long's book, San Shaoye De Jian (Sword of the Third Master), the story is about the inner struggles of a martial arts genius who gets tired of fighting.
Then, after leaving the martial arts world to live a simple life, he is forced to pick up his sword again to rescue his friends.
The makers of the film, which stars mainland actor Lin Gengxin, actresses Jiang Yiyan and Jiang Mengjie and Hong Kong Academy Awards' best actress Nina Paw, recently released posters of the movie and held a forum to discuss female roles in Gu's novels.
Jiang Fangzhou, a best-selling Chinese author, says Gu's uniqueness is that he introduces modern values into historical fiction.
Related:
19th SIFF to tightly follow film industry trends
Centennial German sailor's club believed first cinema in China