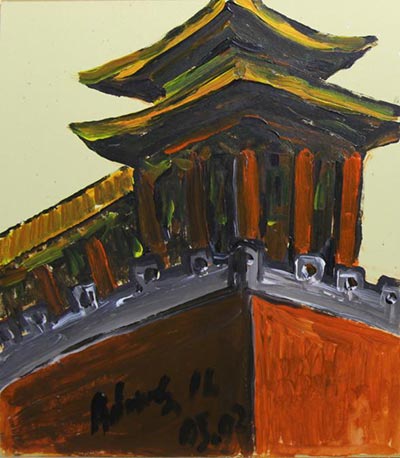 A painting of the Forbidden City by Xu Shendong is part of one of the three series of his ongoing show. [Photo provided to China Daily]
The wild brushwork and bright colors give an unreal feeling to Xu Shendong's paintings. The expressiveness of his oil and ink works remind one of such Western master artists as Vincent van Gogh, Henri Matisse and Pablo Picasso, whose styles influence the creations of the 44-year-old painter from Shenyang, capital of Northeast China's Liaoning province.
Through his pictures, in which reality and dreamlike scenes mingle, Xu persuades people to always seek the warmth of life even when going through bad times.
He stresses this in one of his recent poems, Warm Sun, in which he writes: "Doubts and anxieties of the past no longer exist. They've dissolved in the bright sky. The glass of the buildings reflect my face.
"I see a man who doesn't live in the past or a dream. He is bathed in the warmth of sunlight."
The poem is an introduction to Xu's ongoing Inner World exhibition in Beijing's Songzhuang art district.
On show are dozens of landscapes and paintings from his three series: Forbidden City, Countryside and Sketch Classes.
His drawings of the Forbidden City are based on a brief visit earlier this year.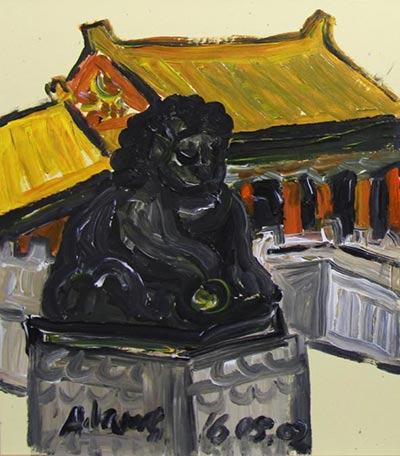 A painting of the Forbidden City by Xu Shendong is part of one of the three series of his ongoing show. [Photo provided to China Daily]
In his works, he captures "inconspicuous corners that people simply overlook" or just have a quick look at for photos-red walls, yellow tiled roofs and corner towers.
Through the paintings, he gives a sense of serenity to the Forbidden City, which is typically filled with the noise of tourists.
Further, he connects the grand architecture of the Forbidden City with China's modern history.
"It is, of course, a testament to our cultural legacy. But the longer I gazed at the palaces, the extensive walls and roofs, the more I felt that they were like solid barriers to keep the country from connecting with the world at the turn of the 19th and 20th centuries," he says.
Xu's early exposure to painting came from his father, Xu Yong, a retired professor of Chinese painting at the Luxun Academy of Fine Arts in Shenyang.
During his childhood, he often traveled with his father who did a lot of sketching across the country.
Xu was impressed by the intricately painted frescoes at the Yongle Temple in Shanxi province.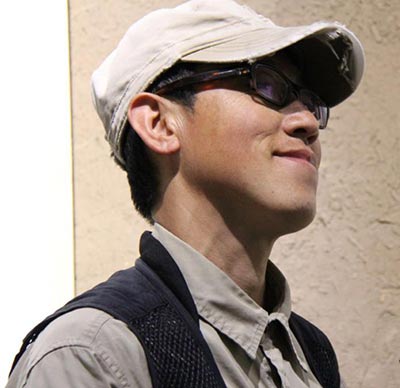 Xu Shendong shows dozens of landscapes and paintings at an ongoing exhibition in Beijing. [Photo provided to China Daily]
A student of Chinese painting in college, Xu also learned oil painting and printing.
He moved to the United States in 1996 where he was nurtured by Western art over a period of six years.
Xu returned to Shenyang in 2002, believing that its "familiar soil" would let him devote himself to painting.
In the series Countryside and Sketch Classes, he demonstrates what it means to be restless and hopeful at the same time.
Commenting on his work, Zhang Hui, a professor of the Luxun Academy of Fine Arts, says: "Xu's works show his power of observation when it comes to changing surroundings and people's struggles. And the colors he applies reflect a confidence in his pursuit of art."
For Xu, poetry is another medium to enrich the themes expressed in his paintings.
In a new catalog of his paintings, Xu pairs each of his works with one of his poems.
He has written around 300 poems since 2006, when he produced his first work aboard a plane. He was then impressed by the grandeur of the Helan Mountain in the Ningxia Hui autonomous region.
Xu, who compares the process of writing and painting to walking on a beach, says: "The inspiration grabs me just like the appearance of a small stone-beautifully polished by the sea-when the tide recedes."
Related:
Children's toys in the Qing court
Treats for visitors as Forbidden City marks International Museum Day