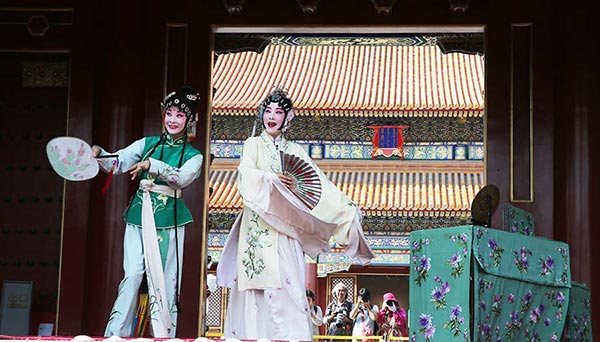 Kunqu Opera artists perform The Peony Pavilion at the Palace Museum in Beijing, May 18, 2016. The performance was part of the museum's celebrations for the 40th International Museum Day. [Photo by Jiang Dong/China Daily]
A series of activities were held to celebrate 40th International Museum Day at the Palace Museum, also called the Forbidden City, on Wednesday.
An excerpt of the classic Kunqu Opera Peony Pavilion was staged for museum visitors at the Cining Gate by a professional troupe from the Suzhou Kunqu Opera Theater.
A show of traditional Chinese music was also performed at the Ningshou Gate for visitors in the morning.
Besides the shows, the museum also announced the setting up of an education center to enhance its role in public education.
The 800 square meter center, located to the west of the museum's main gate, will open later this year.
It will conduct educational programs, especially for the youth, the museum's deputy-director Song Jirong says.
The museum also activated a new lighting system in six main halls along the axis of the Forbidden City, such as the Hall of Supreme Harmony.
The advanced system enhances the light in the halls, after assessing the natural light available.
The new lighting is expected to help visitors not only enjoy the original setting in the halls, but also the architectural design, murals and other elements.
"It (the lighting system) allows visitors to enjoy a better experience while protecting the museum's historical and cultural heritage (from damage) at the same time," says Wang Yamin, executive deputy-director of the museum.
"This new measure is also consistent with the theme of this year's Museum Day — Museum and Cultural Landscapes."
According to Wang, it has always been a challenge for the museum, which sees millions of visitors annually, to strike a balance between relic protection and ensuring a good viewing experience for visitors.
For decades, since the setting up of the museum, lighting was seldom used in the halls as the existing technologies were not good enough and there were few examples for reference internationally.
It took two years of experiments and expert assessment before the lighting project was undertaken, says Wang.