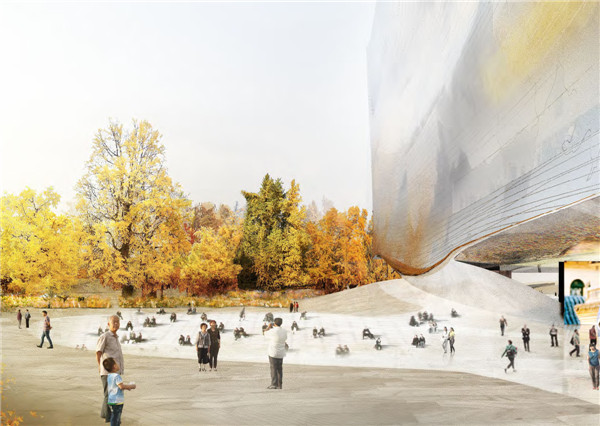 Artistic impressions of the planned National Art Museum of China: a fusion of sky and gardens.
The show space, more than 500,000 square meters, will mainly display Chinese art works from the 20th century and welcome shows of artists from around the world. It will have separate galleries for etching Chinese art and crafts, and foreign art.
According to Xie, the design should follow the idea of "the time"-meaning the new facility must set a tone for the future buildings of its kind in China-and "the place"--meaning it should match with its surrounding environment, especially the city it calls home.
Since 2012, when the project was launched, the museum has received 18 design plans from across the world, including from famous architects such as Frank Gehry, who designed the Guggenheim Museum in New York. But the design plan from Nouvel's firm Ateliers, inspired by the single brush stroke of the Chinese character "one", caught China's attention.
"Jean Nouvel's design is more than simply using Chinese symbols. It doesn't stress Chinese elements on purpose. But you can feel that's a Chinese art museum immediately when you see it," says Xie.
Stefan Zopp, the architect from Ateliers who is in charge of the Chinese project, says Nouvel's team tries hard to match their designs with its surroundings, especially to go with the other two art centers that will mainly display the classics of Chinese culture.