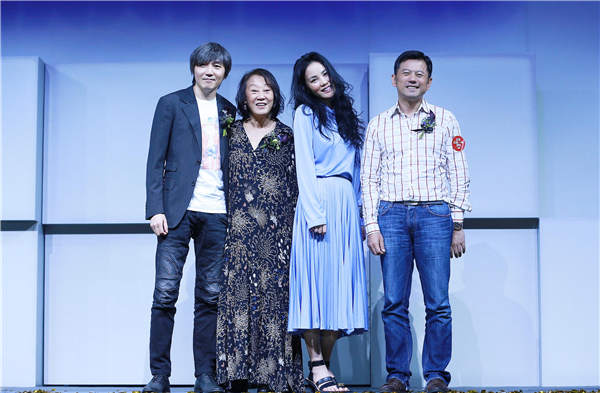 Faye Wong poses with partners at a news conference in Beijing, Sept 9, 2016. [Photo provided to China Daily]
She performed in Cantonese at the beginning of her career and one of the her songs, Fragile Woman, a cover of Japanese song, Rouge, sung by Naomi Chiaki, won her popularity in the 1990s.
From 1993's album, Random Thoughts, Wong changed her music style from traditional Cantonese sad love ballads to alternative music, which was heavily influenced by the Western bands, such as The Cranberries and Bjork.
She began singing in Mandarin in 1994, with songs such as Pledge and Exit, co-written with her ex-husband Dou Wei. Her musical transition was a great success and propelled Wong into one of the best-selling female pop singers in Asia.
So far, Wong, who has swept nearly all the music awards of Hong Kong, Taiwan and the Chinese mainland, has released over 20 Cantonese and Mandarin albums.
Besides being a singer, she has also starred in movies, such as Chungking Express directed by Wong Kar-wai, which won her the Best Actress nomination of the 14th Hong Kong Film Awards.
Though she rarely appears in public and stopped releasing albums-her last studio album was To Love, which was released in 2003, fans get glimpses of her life from pictures taken by paparazzi.
Her personal life also gets lots of attention.
Wong, along with her second husband, actor-turned-entrepreneur Li Yapeng, whom she divorced in 2013, established the Smile Angel Foundation, after her daughter was born with cleft lip in 2006. The organization helps children born with cleft lips.
In September 2014, Wong's agent Chan confirmed that Wong and Hong Kong singer-actor Nicholas Tse resumed dating after they had gone their separate ways 11 years ago, which made the couple hit headlines again.