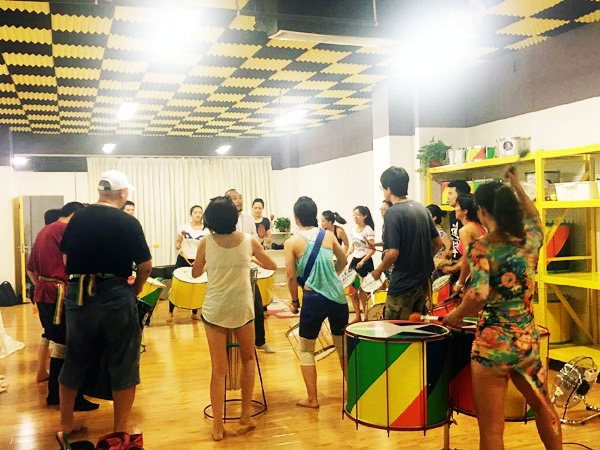 Beijing's samba percussion ensemble is putting on an exuberating performance. [Photo/CRIENGLISH.com]
The distance between China and Brazil maybe great, but that, hasn't stopped the Brazilian dance and music culture from trickling its way into the middle Kingdom.
Here's Nillah Nyakoa as she takes a look at the growing obsession of Brazilian music and dance here in China.
It's hot a Sunday afternoon, but this Beijing's samba percussion ensemble is putting on an exuberating performance to an equally excited audience: me.
Templo do samba founded by American percussionist Jimmy Biala, has been giving classes and performances around China for over a decade now.
And their popularity started back in 2006 when the group had just been put together.
Since then, the group has been pushing the Brazilian dance culture in China with their classes and putting on shows to curios on lookers. This group formerly known as Samba Asia, has also seen its membership increase substantially in recent years.
Fiona Qi Ziying has been with the group since it's inception. Herself a dancer and percussionist, she has made regular visits to the US for samba training. Today she is one of the group's most important mentors.
"We are an adult performing group. We have adult dancing, samba dancing and all kinds of Brazilian dancing and we also have Brazilian percussion. We also have Samba from Rio de Janeiro and many other styles like religious style afro styles as well as children percussion."
Whether in Brazil or abroad samba has become a symbol of the Brazilian nation and it's growth in China is unprecedented. Membership at the Templo do Samba has seen a jump in it's signing of new members says Fiona.
So have the Rio Olympics and the Fifa world cup hosted in brazil helped catch the attention of Chinese people? According to Fiona the answer is yes.
Today suddenly on the dance class we have many new ladies because they saw on the (Olympics) opening ceremony how Brazilian ladies were doing the Samba and everything so they decided they want to learn that and two years during the world cup, it was the same thing."
Since 2006 she says, the group has grown from a handful of armatures to full blown group of samba professionals. With over 55 active members.
Perhaps it's the shaking and jiving to the frenetic beat of the dance, that's attracting people, who knows. But one thing's for certain, samba fever has caught on. And Temple do Samba has also gained a massive audience here in Beijing.
Estrella Zhu Zhou was first mesmerized by the infectious energy elicited from a performance when she first visited Sao Paulo.
"I have a friend, who now lives in Sao Paulo Brazil when we visited him I saw people dancing on the streets playing the drums and I felt like 'woah' this is really cool. So I asked him about it and he told me that there was this (kind of) group in Beijing and that I should join them. So then when I came back from Brazil, I joined them. "
Today she is a strong member of Templo do Samba as a dancer and percussionist.
Most of its members are professionals from various fields of work and backgrounds; They attend the sessions at least, twice a week. Besides entertainment Estrella says, their main reason is to let go off stress, especially after a long day of work.
"It's just happiness I would say. You feel the groove and the music inside you and you just want to show it to the world and then it's just happiness."
The man helping bring all the happiness is Xiao Yong, who is also the founder of Samba China, an umbrella group that consists of Templo Do Samba for adults and the Kids drumming and dance sessions.
A former rock and roll enthusiast and drummer with a former underground rock band, Xiao Yong or Manu as he is fondly known, turned to Brazilian music after meeting his mentor Jimmy Biala.
"The first time I played samba, it made me really happy and very cheerful. That's how magical this type of music is. Because the type of music I used to do before was very angry and cynical and not really that fun. But now what I have learned from many maestros and native Brazilian musicians is that, what I'm doing elicits a lot of positive and sparkling energy and also is inspiring. And that's why I want to share this energy with Chinese and others as well".
To boost his teaching methods, Xiao Yong has spent some time in Brazil to learn the craft first hand. And so today he brings um pouco of Brazil or a little of Brazil to Beijing.
Meanwhile as the rest of the world enjoys the contagious rhythm of Samba in Rio, Templo do samba is putting a mini-Carnival right here in the heart of Beijing.