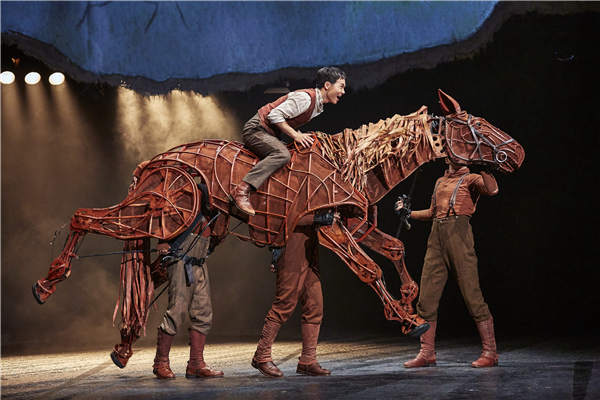 War Horse, a Sino-UK coproduction, will be staged in Beijing this summer. Provided to China Daily
The Chinese version of the drama War Horse will return to Beijing from Friday to Aug 14.
A collaboration between UK's National Theatre and the National Theater of China, the hit stage production was first performed in Beijing last fall and then toured around China, going to Shanghai, Guangzhou and Tianjin.
Staged nearly 200 times and attracting more than 200,000 viewers, the production has been acclaimed as a phenomenon by critics and audiences.
Zhou Yuyuan, president of the National Theater of China, says the production will celebrate its 200th show in Beijing this summer.
"The show caters to people of different ages and is one of the most well-received productions," says Zhou.
Besides theater stages, the Chinese version of the drama was staged as part of the closing ceremony of the "Year of China" in South Africa in December 2015 and was featured at CCTV's Spring Festival Gala, one of the most watched TV shows in the country.
"With War Horse, we are not simply coproducing a play. By working with the National Theater of Britain for around three years, we have learned a great deal about staging techniques, theater management and actor training," says Zhou.
Based on Michael Morpurgo's 1982 novel, War Horse has proved to be the British theater's most successful play.