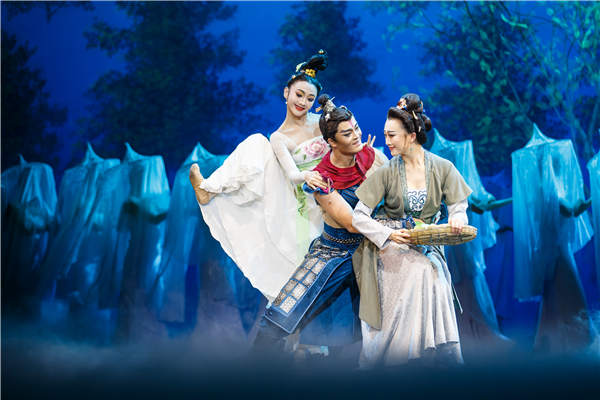 Silk Road Princess combines Chinese folk dance and contemporary dance. Liu Haidong / For China Daily
Legends say that a Chinese princess secretly took the silk-making technology out of the country to her husband, the king of ancient Khotan.
The story is elaborated in a woodcut painting that is around 1,400 years old. It's known as the Legend of the Silk Princess and it is now in the British Museum after being found in a Buddhist shrine in modern-day Hotan, Xinjiang Uygur autonomous region.
The story has been adapted into a dance drama Silk Princess by the Xi'an Song and Dance Ensemble, which premiered in Xi'an, the capital of Shaanxi province, in March.
The dance drama will be staged at the National Center for the Performing Arts in Beijing this weekend.
"We considered different art forms to tell the story of the Silk Princess, and dance drama, which breaks the barrier of language, is the most suitable form," says the director Zuo Qing.
This was just one of many stories from the Silk Road, where silk and other goods were traded along this ancient route that connected China with Europe.
Zuo, a Shaanxi native who has directed many national galas, hopes to use the legend to do more than just explain how the secrets of silk production, a Chinese monopoly for thousands of years, spread along the ancient trade route. He's also eager to introduce audiences to the lively characters who were the most important part of the Silk Road.
According to Fang Ming, the manager of the ensemble, preparations for Silk Princess took three years. The ensemble was founded in 1959 and is known for presenting stage productions with distinctive Shaanxi local culture.
The production team designed the stage set with elements from the Tang Dynasty (AD 618-907). The dance drama combines traditional Chinese folk dance and contemporary dance.
If you go
7:30 pm, Saturday and Sunday. National Center for the Performing Arts, 2 West Chang'an Avenue, Xicheng district, Beijing. 010-6655-0000.