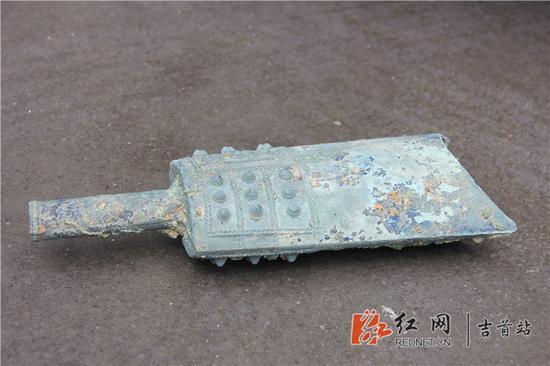 [Photo/Rednet.cn]
The story of a Chinese farmer's unearthing of a 2,000-year-old musical instrument for which he earned a huge cash reward has gone viral online.
Zhang Zhilin from Central China's Hunan province was taking care of his paddy rice as usual on June 22. The brook beside him was swollen due to days of rainfall.
Something greenish peeking out from beneath the water in Aikou village, Majing'ao township, caught his eye.
The hollow object, which was about 30 cm long and weighed 1 kg, resembled a spade, with decorations of dots and braid patterns.
"Historical artifacts were unearthed in my town in the 1950s and 1990s," said Zhang, 47. "Villagers believed I'd come across another treasure."
He also remembered how his father found a similar object 20 years ago.
Having no idea about what it might be, Zhang senior left it to his neighbor, who sold it for 8 yuan ($1.2) to a recycling station. But Zhang junior had always suspected the item was more significant than scrap.
So last month, he took some pictures of the "spade" and went to the city's cultural relics bureau. "I showed them the pictures and said it looked like something antique," he said.
Bureau staff immediately followed Zhang to his home for an examination.
Experts spent weeks examining the find before they were convinced of its age and what it was.
"The bronze was then named after a very similar piece discovered earlier in the area and collected by the Xiangxi Museum. They are both from chimes dating back to the Warring States Period (447-221 BC)," said Zhang Feng, head of the cultural relics bureau.
A Chinese chime is like a drum set made of bronze. When hit with a wooden hammer, the oblate bells in different sizes hanging on a frame could make different tones.
Zhang Zhilin was given 20,000 yuan and a certificate of honor for voluntarily reporting and handing in the treasure.
The 20,000 yuan is one of the highest ever such awards, intended to encourage people to hand in historical artifacts to authorities, according to the Jishou cultural relics bureau.