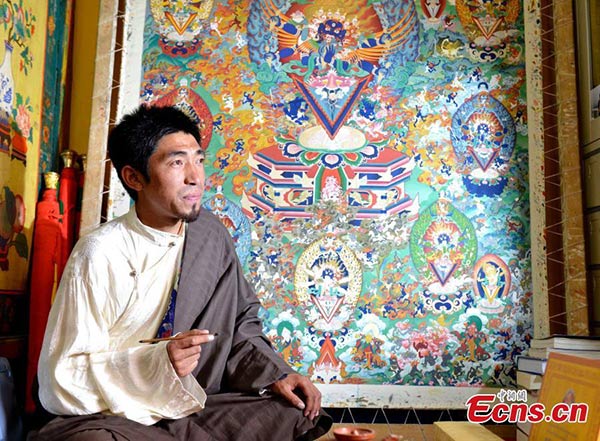 File photo of Trizin Rabten, a 36-year-old Tibetan Thangka painter who poses with his artistic works. [Photo/Ecns.cn]
The first illustrated collection of the intangible cultural heritage in Southwest China's Tibet autonomous region has been published, according to the local culture protection center on Thursday.
It took six years to compile the book, which consists of more than 100,000 words and over 500 pictures. It gives a detailed introduction on the location, history, cultural value and endangered status of more than 300 national or regional-level pieces of intangible cultural heritage.
"The book summarizes the present condition of intangible cultural heritage across the region and provides an authoritative explanation," said Ngawang Tenzin, deputy director of the protection center.
Tibet started a census on intangible cultural heritage in 2006. Over 1,000 forms of intangible cultural heritage, including traditional music, dance, craftsmanship as well as traditional medicine and folkways, were recorded in the census.
Among them, 89 items are recognized as national-level intangible cultural heritage. Tibetan opera and "The Epic of King Gesar" have been listed as World Intangible Cultural Heritage items by UNESCO.