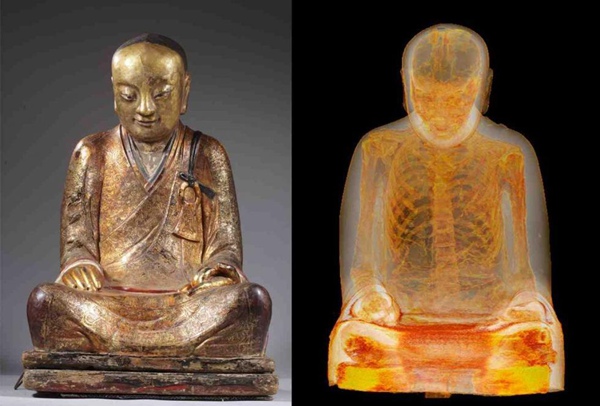 A CT scan shows a body, whose internal organs were removed, concealed in an ancient Chinese statue of a Buddha. [Photos provided by the Drents Museum]
The State Administration of Cultural Heritage has gotten in touch with the Dutch collector who now owns the mummified Buddha, according to a post the authority made on April 16 on its official Sina Weibo account.
"We appreciate the collector's cooperative attitude, and we are willing to retrieve the Buddha through communication and dialogue," the post says.
The Buddha drew the immediate attention of the residents of Yangchun village of Southeast China's Fujian province as soon as it hit the news in China in early March.
The villagers claimed that the Buddha might be the one stolen in 1996, and later filed applications to the local cultural relic bureau, asking for retrieval of the statue.
Chinese cultural relic bureau officials from Fujian province have been collecting evidence ever since. By comparing photos, statistics on the size, height and weight of the Buddha that is currently owned by the Dutch collector and the one that went missing nineteen years ago, it was shown that the two statues are identical.
The Buddha, originally on display at the Hungarian Natural History Museum in Budapest in mid-March, was suddenly removed from the exhibition. The process of retrieving it has been ongoing for a month.
Related:
Why return of mummified Buddha matters
Special: Mummy Buddha statue in focus