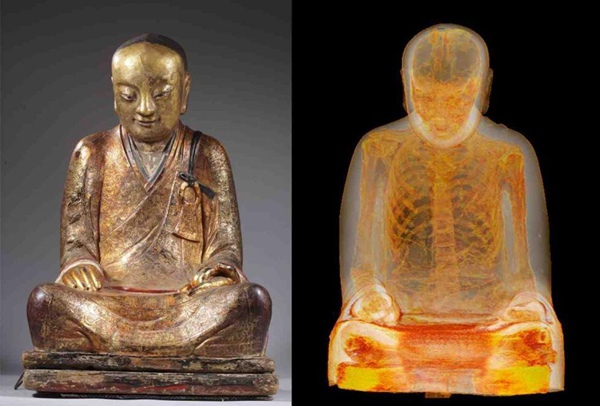 A CT scan shows a body, whose internal organs were removed, concealed in an ancient Chinese statue of a Buddha. [Photos provided by the Drents Museum]
The Dutch private collector who now owns the 1,000-year-old Buddha statue with a mummified monk inside is willing to return the relic to China, if the statue is proven to be stolen from China, according to Amsterdam-based newspaper NRC Handelsblad.
According to the report, the current owner, who works as an architect in Amsterdam, purchased the statue for 40,000 guilders ($19,786) in 1995, the same year a Buddha statue was reported stolen from China.
Jin Ruiguo, an official with the State Administration of Cultural Heritage (SACH), said in a statement that based on photos, local archives and witness statements, SACH can confirm that this Buddha statue was stolen from a temple in Yangchun village in east China's Fujian province in 1995.
The collector said the statue is indeed similar to the one in photos of the Buddha stolen from China. However, the Chinese reports say the Buddha was stolen in October, 1995 by the lunar calendar (which corresponds to the period from end of November to mid December, 1995 by the solar calendar), but the collector can prove that the statue was already in the Netherlands in mid 1995, hence it is uncertain whether the two Buddha statues are the same one.
The owner is willing to invest more, including in DNA testing technologies, to further verify the identity of the Buddha. The SACH is also gathering more evidence and working with other departments to secure the statue's return, Jin said.