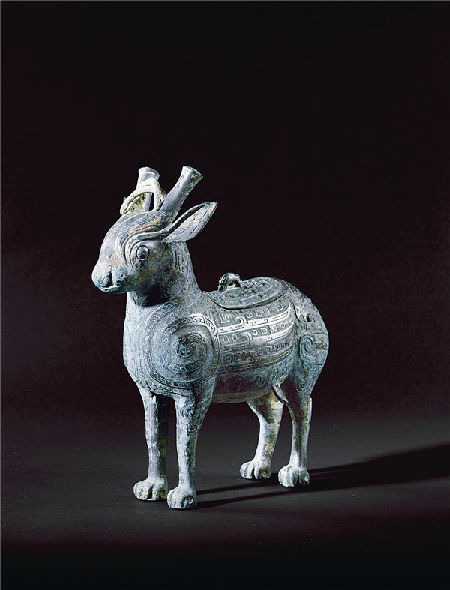 Many of the bronze pieces on show are 3,000 years old. Photos provided to Shanghai Star
An exhibition of 150 bronze pieces are on show at Shanghai Museum, giving a glimpse into how aristocrats lived in China almost 3000 years ago.
Many of the highlighted pieces were unearthed in 2012 at an archeological site named Shigu (Stone Drum) Hill, in Baoji, Shaanxi province and are being presented to the public for the first time, according to Wang Weilin, director of the Shaanxi Institute of Archeology.
The exhibition has been named after two of the exhibits. They are wine vessels called zun and they are in the shape of the deer; one is 43 centimeters tall, and the other smaller at 32.5 centimeters in height. Each stands on a rotating table so that visitors can observe them from all angles.
They are not strictly shaped after the deer, but "a magic creature conceived by the craftsmen, that show features from various animals, even fish," says Ren Zhoufang, director of the cultural relics and tourism administration of Baoji.
The head is most like that of a deer, with antlers crossing over the forehead. "Some suggested the two deer are mother and her baby, but that's not true." says Wang Zhankui, head of the archeological group that unearthed the bronze pieces. "Only the buck grows antlers, so both are male. You may think of them as brothers.