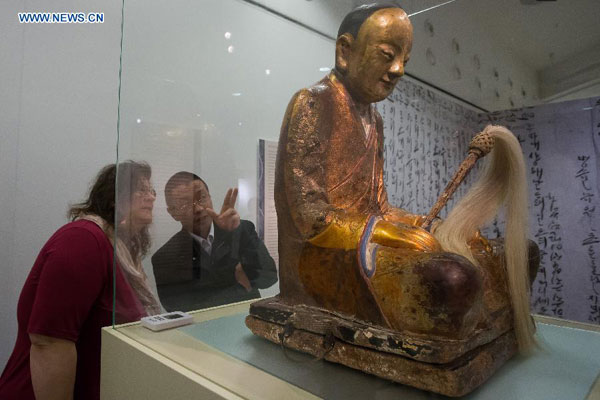 File photo taken on March 3, 2015 shows the Chinese Buddha statue at the Hungarian Natural History Museum in Budapest, Hungary. A Buddha statue that conceals the mummified remains of an ancient monk was withdrawn from the Hungarian Natural History Museum by its Dutch owner in Budapest on Friday. Villagers living in Yangchun, a village in China's southeastern province of Fujian, claimed that this statue was the one stolen from their village's temple in 1995, Chinese media reported recently. [Photo/Xinhua]
The anonymous private collector of a mummy Buddha statue announced his decision to withdraw the relic from the ongoing museum exhibition tour in Hungary.
The owner of the 1000-year-old Buddha statue with a mummified monk inside, which villagers in Yangchun, in China's southeastern province of Fujian, believed was the one stolen from the village temple in 1995, has made the decision "at least for the time being" in order to "calmly and critically evaluate the unexpected situation," said a statement sent to Xinhua via his spokesman.
The statement said the unique Buddhist "whole-body relic" was made public for purpose of research but the media hype and increasing concerns from Chinese Buddhist community for the mummy's presentation, safety precautions and transport routes and modes led to the collector's decision.
It also claimed that the collector first saw the statue in mid-1995 and the previous collector had the statue already in 1994-1995, both earlier than the time when the Chinese villagers found their Buddha stolen.
Additional information is welcomed for expanding their knowledge and broadening their perspectives and understanding, it said.
Wang Yongping, director of Fujian Cultural Relics Appraisal Center, said it was preliminarily confirmed that the Zhanggong Zushi Buddha statue on show was stolen from Datian county based on field investigation and photos sent from Hungary as well as historical records and research.
According to archives, the Buddha, named Zhanggong Zushi, lived in the village in China's Song Dynasty more than 1,000 years ago.
As a master of Chinese herbal medicine, he helped cure a lot of people.
When he died, his body was mummified and local people made a statue with the mummy inside. The statue had been worshipped in the village temple ever since until it was stolen in 1995.
The Buddha statue was on a "Mummy World" exhibition at the Hungarian Natural History Museum that opened last October and was originally scheduled to be on display till May 17.
The statue was pulled off from the show on Friday as the museum said the Dutch owner withdrew it without giving any reason.