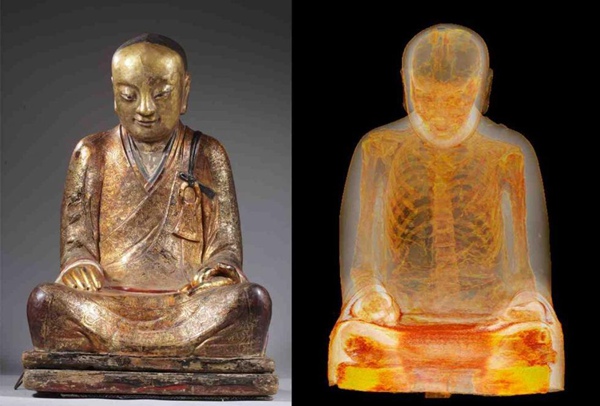 A CT scan shows a body, whose internal organs were removed, concealed in an ancient Chinese statue of a Buddha. [Photos provided by the Drents Museum]
A human body, whose internal organs were removed, was found concealed in an ancient Chinese Buddha statue after a CT scan was ordered on the statue by the Drents Museum in the Netherlands recently.
Inside the statue, which has a history of more than a thousand years, sits the mummified remains of a monk in the state of meditation, who was believed to be the Buddhist master Liuquan of the Chinese Meditation School.
Researchers also found scraps of paper written in Chinese inside the abdominal cavity of the body through endoscopy.
The bone samples have been collected for DNA testing.
The Drents Museum, which exhibited the statue last year, said they had known the body was inside the statue but did not know the condition of the body before the scan.
The statue is now exhibited at the National Museum of Natural History in Budapest before heading to Luxemburg for display in May, according to the Drents Museum.