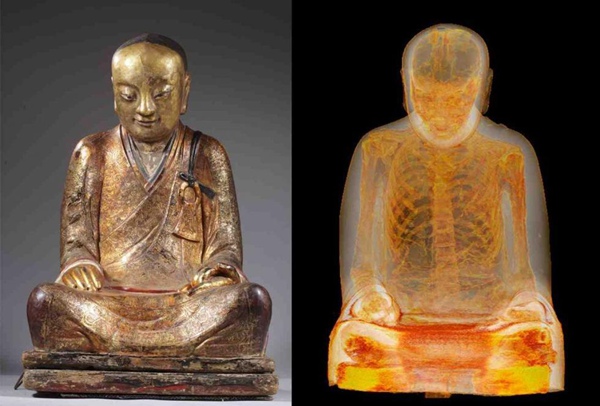 A CT scan shows a body, whose internal organs were removed, concealed in an ancient Chinese statue of a Buddha. [Photos provided by the Drents Museum]
A Buddha statue, which concealed the body of a monk
on an exhibition tour in Europe
, is suspected of being stolen from a village in East China's Fujian province in 1995.
Through a medical scan, the golden statue of a sitting Buddha was found to have contained the skeletal remains of a monk, who turned himself into a mummy almost a millennium ago.

Researchers also found scraps of paper written in Chinese inside the abdominal cavity of the body through endoscopy.
The statue, about 1.2 meters tall, began touring from the Drents Museum in the Netherlands in February and is now the centerpiece of an exhibition in Budapest. It is expected to go to Luxembourg for an exhibition in May.
The exhibition of the mummified statue has made a splash among Chinese internet users since it was first covered by Chinese media in February. Speculations from social media posts focused on where the statue comes from and how it was exported to Europe.
As the news was fast spreading across China, the Yangchun village in Fujian was seethed with excitement. Villagers suspected that statute was the personification of Zhanggong Liuquan, who practiced self-mummifications in the village during the Song Dynasty (960-1279).
The villiages provided three points to support their claim.
First, according to the villagers, the statue on exhibition in Europe is very similar in appearance to the photo of the village's statue of Master Zhanggong Liuquan that was stolen in 1995.
Second, the scan by the Netherlands' scientists showed the Buddhist's remains dates back to the 11th or 12th century, which matches the periods of Zhanggong Liuquan's self-mummification that occurred during the Song Dynasty (960-1279).
Third, the statue was bought and sold again to a Dutch private collector in 1996, one year after the village's mummified statue went missing. The timing of the two instances might be more than coincidence.
The Fujian cultural relics authorities have sent archeological experts to the village to collect materials to further validate the villagers' claim.
"We will consider using legal ways to retrieve the Buddhist statue if evidence shows it was stolen from the village," said Wang Yongping, an official with the local antique connoisseur authorities.
In ancient China, monks who made great achievements usually practiced self-mummification when they feel they are about to die. They stopped eating and drinking to deplete their organs in the periods until death.
After a monk dies, he is buried sitting in the lotus position in a clay vessel. The preserved body is decorated with paint and adorned with gold.