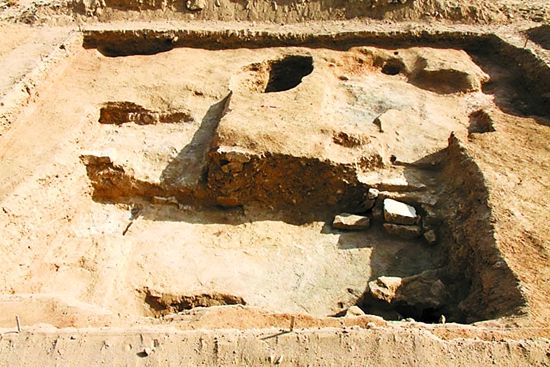 The remains of a workshop are seen at the archaeology dig.[Photo/people.com.cn]
Secondly, archaeological excavation work keeps pace with the preservation of valuable antiques. A case in point are the wall paintings from the Northern Dynasties (386 AD-581 AD) in Shanxi province. Many wall paintings are damaged by thieves, therefore, preservation of these painting becomes the priority in the current work, said Zhang Qingjie, a researcher in the Institute of Archaeology in Shanxi province.
Thirdly, a widespread application of high technology has become a common trend. Liu Guoqiang, director of the excavation team in Gangga grave relics in the Inner Mongolia autonomous region, said that nowadays they would bring many antiques to the labs in case some vital information was missing in the field work. Besides, they could use hi-techs to do in-depth research on these valuables, which is a new technique for them to try.
Founded in 2002, this noted archeological forum has won a reputation as the "Oriental Oscar in Archaeology". As a prominent platform for archaeology, it has played a significant role in promoting Chinese archaeology and its culture.