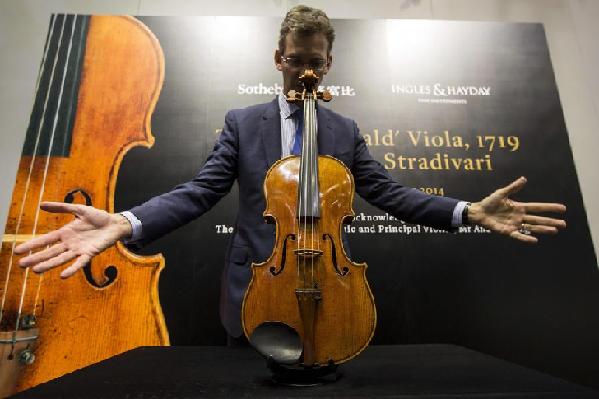 A staff member puts the 'Macdonald' viola made by Italian artisan Antonio Stradivari in 1719, on a stand during a preview before Sotheby's Spring Sales at Sotheby's gallery in Hong Kong April 4, 2014. The rare Stradivari viola, considered to be one of the finest in existence, is expected to fetch more than $45 million in a sealed bids sale this spring, which would set a world record for the most expensive musical instrument ever sold. [Photo/Agencies]
An antique violin made by Italian famous luthier Antonio Stradivari was purchased by a Chinese collector recently at a sky high price in New York, according to the newspaper Beijing Youth Daily.
It means that the Chinese mainland has one of the world's most expensive violins. The collector says that each outstanding performer in China can get the chance to play this violin.
The instrument was made in 1727 by Antonio Stradivari (1644-1737), who was one of the most prestigious luthiers in the world. He made thousands of musical instruments, such as violin, viola and cello throughout his lifetime. His existing instruments are increasingly expensive due to preciousness. Stradivari's instruments are the world's finest which performers yearn for.
The violin was purchased in 1994 by an American couple who are art philanthropists, and the Chinese collector got in contact with them and expressed his wish to take the violin to China. He said that, although China has numerous violin talents, they don't have the opportunity to access to world's top musical instruments, which is a pity for such a big country.
The collector, whose name is not known to the public, authorized an international auction company in Hong Kong to help him with the purchase.
Experts say that the purchase of the violin has made China a big country in the collection of famous instruments, following the US, Britain, Switzerland and Japan. Some experts predict that in the next 30 years, China will see a rapid momentum in the expansion of instrument collection.