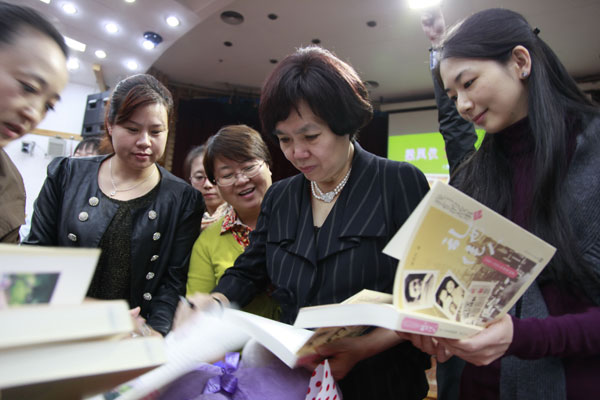 Hong Kong writer Leung Fung-yee (second from right) signs books for fans at the launch of her new novel, Our Stories-A Woman in Times of Turmoil: Hong Kong Stories in 1949-59 in Beijing. [Photo/China Daily]
A famed writer's first historical novel examines changing times for the region in the decade after 1949. Liu Zhihua reports.
After having not published a book for more than a decade, legendary Hong Kong writer Leung Fung-yee has finally offered her fans a new title - via her first historical novel.
Leung launched the book, Our Stories - A Woman in Times of Turmoil: Hong Kong Stories in 1949-59 in Beijing last month. The event was attended by hundreds of fans and journalists who had come from all over the country.
Born in 1949, the year New China was founded, Leung is a legend in China's literary world, having written more than 140 books, dozens of them best-selling business-themed novels.
Leung is also a successful businesswoman in the publication industry and the creator of a Hong Kong-listed company, as well as a renowned philanthropist and social activist who has donated millions of yuan to education and charity.
Her new book, published in Chinese by the People's Literature Publishing House, her longtime publisher on the Chinese mainland, will be the first in a series to wrap up her writing career, Leung said at the launch.
She started writing novels in 1989. Most are based on her experiences as a businesswoman since the 1970s, and some are set during the Asian financial crisis of 1997-98.
In the 1990s, her publisher introduced more than 20 of her books to the mainland, and Leung became one of the most popular writers of that period.
Many of her books were adapted for TV dramas and films, and Chinese media called her a "cultural phenomenon". At one event, she signed books for her fans for six straight hours.