A circus for children is coming to town
The Immediate is a circus show for children above 8. Camille Boitel is joined by six performers to surprise audiences with a riotous reflection of modern times that is catapulted into reality by breathtaking physical skills, surrealist imagery, apocalyptic optimism and a chaotic, collapsing set. The show has toured extensively in Europe. It starts with a stage packed with furniture, cardboard boxes and ladders. It serves as the playground for performers.
7:15 pm, June 11-12. Shanghai Yihai Theater, 466 Jiangning Road Jing'an district, Shanghai. 021-6256-8282.
Sun launches comeback tour
Singaporean singer-songwriter Stefanie Sun comes to town with her Kepler Concert Tour. With her 12th album, Kepler, released in February, the 35-year-old made her comeback after giving birth to her son two years ago. The new album is dedicated to her son as well as her current life, as a mother, a wife and a singer-songwriter.
7:30 pm, July 12. Beijing Workers' Stadium, Gongtibei Lu (Road), Chaoyang district, Beijing. 400-610-3721.
Expressionism in China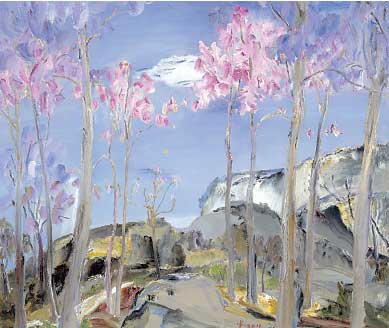 Cheng Xiaoguang is famous for his landscape oil paintings. He believes in sketching from nature, and spends a lot of time on sketching tours all over the country. His painting style combines Impressionism with traditional Chinese ink painting. Critics sometimes refer to him as a leading fi gure of "Oriental expressionism". Jun 1-15, Duolun Museum of Modern Art, 27 Duolun Road, Hongkou district 021-5609-5728
King Lear, on his own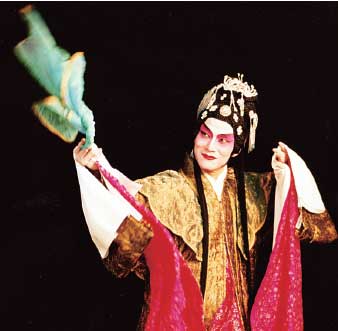 The Contemporary Legend Theater from Taiwan will present King Lear as a one-man show, starring Wu Hsing-Kuo, the 61-year-old founder of the company. Wu has been trained as a martial arts performer and Peking Opera singer since age 11. In the play, Wu tears o his wig, robe and huge beard, and also tears down the boundaries between role and performer. Wu is both King Lear and himself when he shouts the angry lines at the top of his voice. 7:30 pm, June 13-15, DaGuan Theater, 3F Shanghai Himalayas Arts Center, 1118 Lane, Fangdian Lu (Road), Pudong New Area, 021-5887-1234 120-580 yuan ($19-93).
Foot-stomping with Prokofiev
Patricia Kopatchinskaja will team up with Guangzhou Symphony Orchestra to perform Sergei Prokofiev's Violin Concerto No 2 and Romeo and Juliet Suite. Yu Long will take the baton. Born in Moldova, Kopatchinskaja moved with her family to Vienna where she studied music. She specializes in modern works and embraces a highly personal style when performing. For example she likes being barefoot either when she rehearses or performs onstage, and stamping her feet hard.
8 pm, June 14. Symphony Hall, Xinghai Concert Hall, 33 Qingbo Lu (Road), Ersha Island, Yuexiu district, Guangzhou. 020-8735-8735.
Soda Green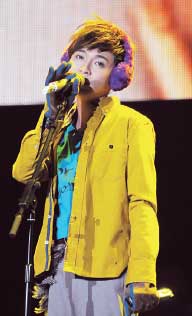 The pop group from Taiwan started as a student band and was the fi rst indie group to stage a concert at Taipei Arena. Lead singer Wu Tsing- Fong is famous for his wide vocal range, androgynous style and original lyrics. The band celebrates its 10th anniversary with a tour named Aerial Visions, Sounds and Illusions. Two concerts will be staged in Shanghai.
7:30 pm, Jun 14, 15, Mercedes-Benz Arena, 1200 Expo Avenue, Pudong New Area, 021-5150-9199 280-880 yuan 􀹋􀋋􀋆
Songs from Japan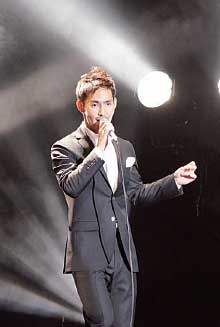 Atari Kousuke is a Japanese artist performing in the aboriginal shimauta (island song) style of his hometown Amami Oshima. He has developed a distinctive style close to mainstream pop, with a traditional Japanese fl avor. Known to his Chinese fans as "the most healing voice on the planet", Kousuke performs his third concert in Shanghai.
7:30 pm, Shanghai Oriental Art Center, 425 Dingxiang Road, Pudong New Area, 021-6854-1234 80-880 yuan
Two guitars in concert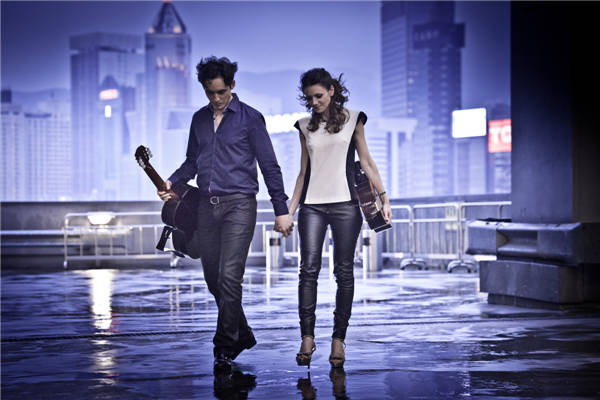 Italian crossover guitar duo Carisma, featuring classical guitarists Magdalena Kaltcheva and Carlo Corrieri, bring their techniques and modern and innovative sound. They'll perform Sting's Fragile, Julio Iglesias' Gozar La Vida and Vivaldi's Concerto in G major. The duo came together in 2011 after a remarkable career as soloists. They have been known to European and Asian audiences for their brilliant mastery of classical guitar since they were invited to perform at Andrea Bocelli's concert tours beginning in 2012.
7:30 pm, June 14. Beijing Concert Hall, 1 Beixinhua Jie (Street), Xicheng district, Beijing. 4006-228-228.
8 pm, June 21. Symphony Hall, Xinghai Concert Hall, 33 Qingbo Lu (Road), Ersha Island, Yuexiu district, Guangzhou. 020-8735-8735.
Ceramic painting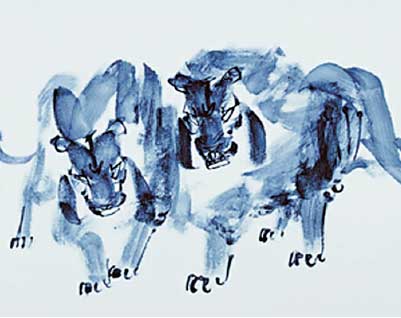 Leng Jun is famous for his photorealistic paintings. Besides his oil paintings that refl ect the vivid textures and details of still life, the artist has been experimenting with prints, Chinese paintings and ceramic paintings. He is constantly shifting between these di erent media to express himself in novel ways. The exhibition features his ceramic paintings from the past eight years.
9:30 am-5 pm, Tue-Sun, Jun 15-18, the Long Museum Puong, 210, Lane 2255, Luoshan Road, Pudong New Area, 021-6877-8787