A night of Strauss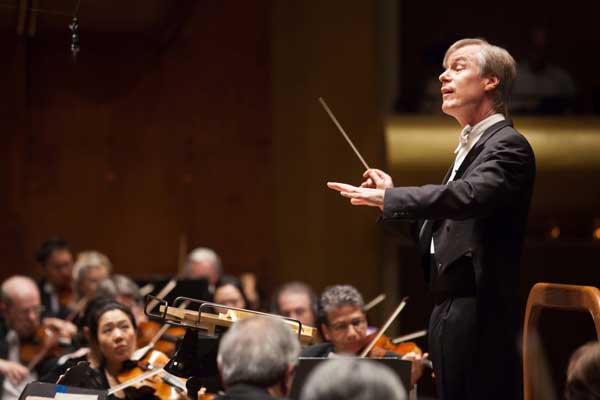 Under the baton of chief conductor and artistic director David Robertson (pictured below), Sydney Symphony Orchestra will perform in Beijing with a concert celebrating the 150th birth anniversary of the German composer Richard Strauss. As part of the orchestra's seven-city tour in China from June 22 to July 6, the concert will bring Strass' Ein Heldenleben (A Hero's Life), featuring Chinese pianist Zhang Haochen, as well as Sound Lur and Serpent by Australian composer Andrew Schultz.
7:30 pm, June 27. National Center for the Performing Arts, 2 West Chang'an Avenue, Xicheng district, Beijing. 4006-228-228.
Symphony's year-end finale
The Shanghai Symphony Orchestra will conclude its 2013/14 music season with a concert led by Russian-American conductor Semyon Bychkov. The program consists of Symphony No 8 (Unfinished) by Franz Schubert and Symphony No 5 in C-sharp minor by Gustav Mahler.
7:30 pm, June 28. Shanghai Oriental Art Center, 425 Dingxiang Lu (Road), Pudong New Area, Shanghai. 021-6854-1234.
Gongbi artist's first exhibition
After 50 years of focusing on the gongbi style of Chinese painting, artist Jin Dajun is holding his first solo show in Beijing. Jin's paintings explore figures, especially of ancient beauties, including Yang Yuhuan and Xi Shi, and mythological figures like moon goddess Chang'e. The painter writes a poem on each painting based on what he draws. His paintings of flowers, birds and landscapes will also be on display.
10 am-5 pm, until June 29. Yingu Art Mansion, 9 Beisihuan Xi Lu (Road), Haidian district, Beijing, 010-6280-0796.