Painter embraces East and West
Singaporean painter Lim Siang Hiong was invited to hold a show at Peking University during his visit to the university to donate his big painting Autumn Walk. The show, entitled Fusion of East and West, presents typical works of the 69-year-old, who is good at combining the bright colors from the oil painting and abstract ink lines from Chinese painting. His works on display depict landscapes, rural life of farmers and cowboys. Lin studied fine arts at the Singapore Academy of Fine Arts and later went to Paris for further studies in the 1970s.
9 am-4 pm, until June 9. Peking University Hall, 5 Yiheyuan Road, Haidian district, Beijing. 010-6276-8588.
Wu retrospective of ink figures
The exhibition Return to Purity reflects upon the six-decade-long artistic and educational practices of Wu Shanming by displaying his dozens of ink-figure paintings. Wu began studying Chinese painting at the affiliated high school of the China Academy of Art in Hangzhou, Zhejiang province. He has witnessed the transformation of Chinese ink art and been a forerunner in reviving the traditions of figure paintings. The retrospective features the 16-meter-long painting Shangri-la that he created for the exhibition.
9 am-5 pm, until June 9. National Art Museum of China, 1 Wusi Dajie (Street), Dongcheng district, Beijing. 010-6400-1476.
Drama of brute force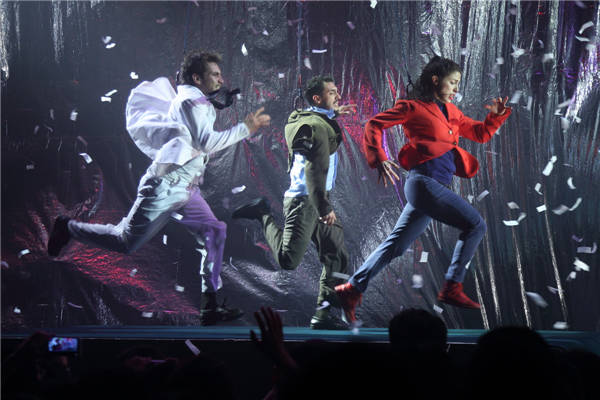 Fuerza Bruta is a postmodern theater show created by Diqui James in 2005. The 70-minute performance features "brutal force" incorporated with dance, theater, swimming and more. The audience is not separated from the stage and performance in Fuerza Bruta. Rather, the show takes place among the viewers. Fuerza Bruta had a successful tour in Beijing last year, staging more than 50 shows.
7 pm, June 10-11. Xuhui Riverside, on Longteng Avenue, between the crosses with Dong'an Road and Ruining Road, Xuhui district, Shanghai. 021-6469-5137.