Return to childhood through theater
The 80-minute physical theater show Imagine Yourself, presented by French artist Julien Cottereau, is coming to Beijing. Focusing on humanity's most beautiful part, childhood, the artist helps viewers rediscover wonder through the show.
7:30 pm, June 18 and 19. Poly Theater, 14 Dongzhimen South Street, Dongcheng district, Beijing. 4006-228-228.
Ceramic vision
Leng Jun is famous for his photo-realistic paintings. Besides his oil paintings that reflect vivid textures and details of life, the artist has been experimenting with prints, Chinese paintings and ceramic paintings. He is constantly shifting between these different mediums to express himself better. The exhibition features his ceramic paintings from the past eight years.
9:30 am-5 pm, daily except for Monday until June 18. Long Museum Pudong, 210 Lane 2255, Luoshan Lu (Road), Pudong New Area, Shanghai. 021-6877-8787.
Breaking through medium restraints
Intelligentsia Gallery's current exhibition The Relevance of the Critical Medium examines the evolution of all kinds of media, and how the transformation affects artistic and curatorial practices. It teams up five artists from home and abroad, including Ren Bo, Wu Yang, Coco Esteve, Vinzenz Reinecke and Geoff Overheu. They try to liberate the medium they work with from predetermined restraints.
4-6 pm, Saturdays and Sundays, by appointment, until June 20. 11 Dongwang Hutong, Dongcheng district, Beijing. 183-1075-4745.
Qu Wanting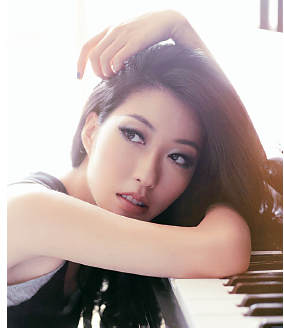 The talented singer-songwriter was born in Harbin in northeastern China's Heilongjiang province and grew up with her family in Canada. She has been active in the Chinese music scene since 2010. She splits her time between China and Canada because of her singing career. She writes her own songs in both Chinese and English, and plays roles occasionally in fi lms and TV series. Qu is the ambassador for the Vancouver Tourism Bureau in China. Qu is on tour for her latest album Say the Words.
June 20, 7:30 pm, Shanghai Grand Stage, 1111 Caoxi Road North, Shanghai, 021-6217-2426 180-680 yuan
Yang's 39 steps
Theater director Yang Shipeng presents a modern adaptation of Alfred Hitch-cock's classic thriller 39 Steps. Yang translated the melodrama that was once written for stage by British playwright Patrick Barlow. In his play, Yang's actors take on 48 roles-from being hero to villain-even becoming inanimate objects. The original spy story's serious appeal is replaced by humor in Yang's version.
7:30 pm, June 20-22. People Grand Theater Shanghai, 663 Jiujiang Lu (Road), Huangpu district, Shanghai. 021-6217-2426.
Fong's debut
Hong Kong-based pop singer Khalil Fong will debut on the Chinese mainland in Shanghai. The 31-year-old singer and songwriter released his first albumin 2005 and has since released nine. Fong sings mainly in Mandarin. The tour will feature his new album Weixian Shijie (Dangerous World).
8 pm, June 21.Mercedes-Benz Arena, 1200 Expo Avenue, Pudong New Area, Shanghai. 021-5150-9199.
French metal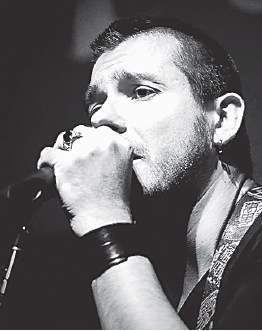 The 88's are a trio of diverse cultural and musical backgrounds. Hailing from Portugal, guitarist Luis Coelho brings not only his Latin infl uences, but also his love of metal and progressive rock. Vocalist Pheel, from France, brings his mix of hard rock, reggae, and punk. American drummer Joe Mahone brings his love of R&B and funk. The fact that the band formed in Shanghai adds another distinct fl avor to their music.
June 21, 8 pm, Q.House, QSW Culture Center, 179 Yichang Road, near Jiangning Road, Putuo district, 021-6266-3191 ext 8811 80 yuan presale; 128 yuan at door; 8 yuan tickets for students available
Shawshank hero directs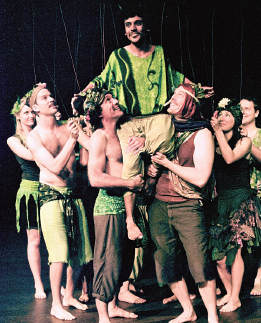 The Actors' Gang production of William Shakespeare's A Midsummer Night's Dream, directed by Tim Robbins, invites audiences to step into a surreal world of fairies, spells, incantations, lovers bewitched... The world in disorder made right by the mishief of the night. "This is one of my favorite Shakespeare plays — there are so many layers of truth, untruth, dream, reality, magic and deception," says Robbins, best known as the hero in the 1994 fi lm Shawshank Redemption.
7:30 pm, Jun 19, 20, 21; 2 pm, Jun 21 Daguan Theater, 3F, Himalayas Art Center, No.1 Lane 1188 Fangdian Road Pudong New Area 120-380 yuan
Origin of the world
Meridiano Theater Company from Denmark presents for China's children a show about the origin of the universe. Created by Giacomo Ravicchio, with an original music score by Jerome Baur, Genesis takes young audiences on a magical journey through the mystery of life. The production combines puppet performance with 3-D multimedia effects to bring a new theater experience.
10 am, 1 pm, 3 pm, June 21-22. Shanghai Dramatic Arts Center-Drama Salon, 3F, 288 Anfu Lu (Road), Xuhui district, Shanghai. 021-6473-0123.
Summer solstice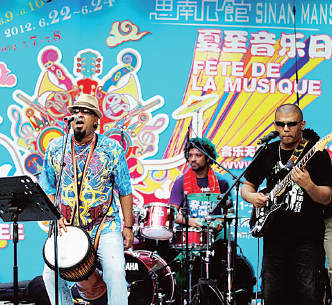 Sinan Mansions celebrates the longest day of the year with a series of outdoor concerts. Jazz singer Anne Evenou, CJW band as well as other renowned musicians will perform. The concept started in Paris in 1982, with the aim of musicians presenting their diverse styles and creativity. This year Sinan Mansions joins hands with the French consulate in Shanghai for the second time, to bring live music from 4 pm till late at night.
4 pm, Jun 21-22, Sinan Mansions, 53 Sinan Road, near Fuxing Middle Road, 021-3110-6306
A girl's dream on canvas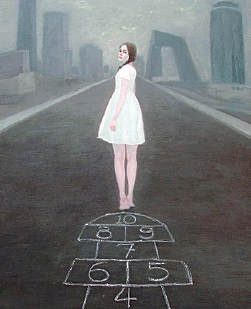 Graduating from Central Fine Arts Academy, young emerging artist Yan Xiaoqian's works depict a poetic dream world of a young generation's fantasy. Butterfl ies, blooming fl owers, young girls, a boundless ocean, cities and animals comprise the major elements of her creation. Her works convey the desire to love and to be loved, the struggle between real life and dreams as well as the admiration of youth and beauty.
1 -9 pm, Tue- Sun, Jun 21-Jul 9, Noeli Gallery, 150B Yueyang Road, near Yongjia Road, Xuhui district, 021- 6431-9442
A new look at expo designs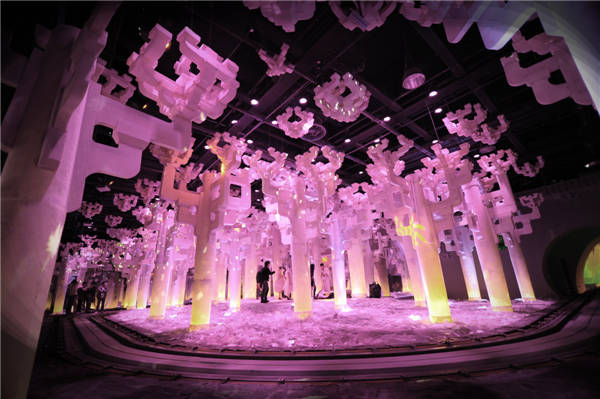 Chinese architect Huang Jiancheng, best known for his space design for China pavilions at two world expos, is having a multimedia exhibition at the art museum of the Central Academy of Fine Arts. The projects on display include China pavilions at Expo 2005 Aichi and Expo 2010 Shanghai and the Hunan Provincial Museum. They are displayed in images, videos and architectural models.
9:30 am-5:30 pm, Tuesday to Sunday, until June 22. CAFA Art Museum, 8 Huajiadi South Street, Chaoyang district, Beijing. 010-6477-1575.