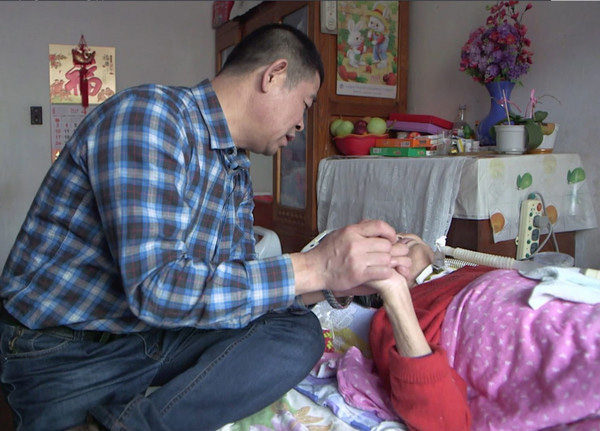 Mao Zhengshi talks with his mother who survives on life-support machine. [A still image from China Central Television]
Filial piety
Mao got married in 2012, and had a daughter soon. At the same time, his mother got severe lung disease and lived on life-support machine.
Though Mao and his five other brothers and sisters rotated to take care of the mother, Mao and his wife shoulder the most part of the care work.
His wife said that she understood him. "I like him because of his technical knowledge and filial piety."
Working for more than 30 years in the casting industry, it was due to his pursuit in the technologies and his responsibility to the family.
The Dalian company wanted to promote him to be a deputy director of the factory to sit in an office, but Mao refused.
He wanted to give full play to his experiences and technologies in the casting work, and another reason was that he could make more money from his technician work to support his family.
"Workers would be more capable with knowledge and technologies," Mao said. He expected that more than two million workers to contribute their wisdom in improving technologies and leading the country's casting industry to go abroad.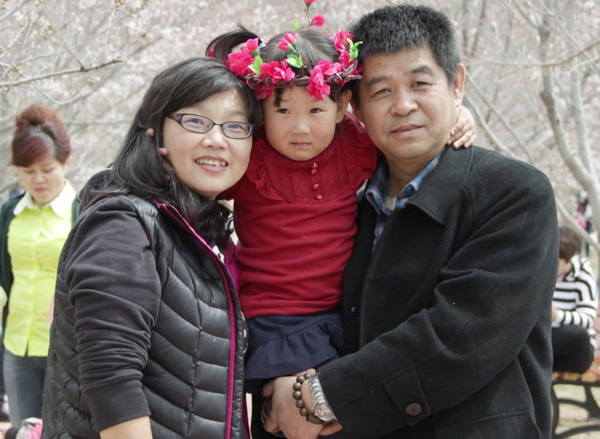 A family photo of Mao Zhengshi, his wife and their daughter. [A still image from China Central Television]