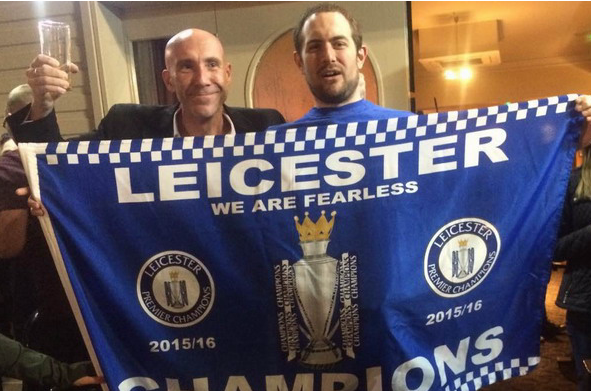 Fans of the Leicester City celebrate the club's win after knowing the draw between Spurs and Chelsea on Monday in Leicester. [Photo provided to Chinadaily.com.cn]
With a 2-2 draw between Spurs and Chelsea on Monday, Leicester City clinched their first-ever Premier League title in their 132-year history. The word 'miracle' is being used to describe the achievement by the underdogs in the one of best professional football leagues.
Obviously, the Italian manager Claudio Ranieri has exerted his counter-attack philosophy wisely and comprehensively and the players have showed us the spirit of this team game. By knowing the players well, the wise manager fully practiced his 1-4-4-2 system which embodies the art of defending and quick counter attacks.
Exceptional players Schmeichel, Huth, Morgan, Mahrez, Vardy and others showed their compactness as a team and their fearlessness in facing up the other top-flight clubs.
We also saw how concentration contributed to Foxes achievement while others such as Arsenal, Man United and so on have been under pressure of high-frequent matches both home and across the Europe. Leicester have benefited with a small squad and less games as they have been knocked out of all competitions early during the season and have not been plagued by injury worries throughout the season.
Thanks to the continuous support of Thai investors, Leicester club could bring in three or four key players to strengthen their defense. The squad would boost their lineup as more money would flow in after the once-in-a-lifetime triumph and as they prepare to play in Europe next season.