With China setting a goal to join the world's soccer elite by 2050, more youths are gearing up to play as an increasing number of families and schools have embraced the game, not just for the health benefits but also because of its educational appeal and team-spirit ethos.
Students at Shanghai's Jinshajiang Road Primary School hone their skills, especially dribbling, tackling and shooting, every day in intense workouts after school under the guidance of Spanish coach Jose Luis Iglesias. The scene is reminiscent of youth practice sessions at La Liga (Spain's top professional league) giants such as Barcelona and Real Madrid, he said.
A rapidly developing tactical awareness is evident, as players get into position and run off the ball. The high levels of enthusiasm and the school's commitment to develop the soccer program has impressed Iglesias, who was hired by Beijing-based Ray Sports last October to train players at the school as a physical education teacher.
Ray Sports is rolling out a program in cooperation with Shanghai's municipal education authority to help improve the city's junior soccer training program with European expertise offered by 10 foreign coaches it hired, including the 24-year-old Iglesias.
"The tactical level (of the students) was poor (at the beginning). They didn't know how to play the game the right way. The progress over the past several months has been incredible," said the Spaniard, who used to be a youth trainer with La Liga club Celta Vigo.
Having adapted to life in Shanghai, Iglesias now trains students from grade one to five for two and a half hours after school from Monday to Friday, while coaching the school team at regional tournaments on weekends.
As China aims to develop into a soccer power, highlighted in a long-term plan announced earlier last month, an increasing number of youth promotion programs and junior camps, featuring foreign coaches, have been organized by governmental departments, social organizations and private companies.
Inspired by President Xi Jinping, an avid soccer fan, the government approved a national plan in March aimed at transforming the country into a dominant soccer power in Asia by 2030 and a leading world competitor two decades later.
One of the keystones of the plan is to encourage more children to participate in the game in a joint effort of cooperation between the Chinese Football Association and the Ministry of Education.
Wang Dengfeng, director of the ministry's PE, health and art department, envisions a surge in student interest in the game as well as the training programs.
"Through events to introduce foreign coaches, we can expose our children to an advanced soccer training atmosphere that they'd never experience in ordinary PE classes on campus. It's a positive way to get more students interested in the game," said Wang.
In accordance with the national outline, the ministry, in cooperation with the CFA, has set a goal to increase the number of schools specializing in soccer from more than 8,000 to 20,000, encouraging more than 30 million primary and secondary school students to practice regularly and training 5,000 school soccer instructors by 2020.
The ambitious plan has impressed Iglesias and his foreign counterparts.
"It's great to see the whole country taking action. I think China is going to improve a lot in the years to come. But they need to improve the organization of the school league system to provide more competitions for the children," he said.
A four-tier school league system is currently operated by the Ministry of Education with more than 100,000 inter-school matches played last year, involving 2.7 million students.
Still, the lack of training expertise as well as facilities have been a pressing issue, and this needs more investment from both local governments and the private sector, said youth training expert Jin Zhiyang.
"Rather than spending hugely to buy star foreign players, Chinese professional clubs should invest greater resources and money in cultivating more homegrown talent," said Jin.
To raise soccer's profile in the country, 16 clubs from the Chinese Super League, the top-flight competition in the country, spent a staggering $373 million during the most recent transfer window to purchase high-profile overseas players for the 2016 season.
In contrast, the average governmental funding for each school registered in the four-tier system is less than 10,000 yuan ($1,539) for all expenses, while more than 10,000 students currently have to share, on average, a playing area of half a soccer field, according to CFA.
The lack of public funding has opened business opportunities for companies such as Ray Sports and Sport 8 International to introduce foreign resources.
Sport 8, a Beijing-based company offering online-to-offline soccer education and training programs for local coaches, has been cooperating with Pan-China Sports, a sports infrastructure developer, to build and manage 300 soccer pitches in Beijing, according to Sport 8 co-founder Bai Qiang.
"Pan-China Sports offers the facilities while we provide management and operational expertise to maximize the use of them to get more youth involved," said Bai, who established the company together with commentator Huang Jianxiang and Dutch soccer international Wesley Sneijder in 2014.
Featuring the advanced Dutch youth training know-how that has produced an abundant supply of stars, including Sneijder and his fellow countryman Arjen Robben, Sport 8's training program, which is conducted by a foreign training crew from the Netherlands, has reached out to more than 70 Chinese cities, instructing about 15,000 local PE teachers.
The after-school training provided by private companies and NGOs will serve as a supplement to the governmental effort, said Bai.
sunxiaochen@chinadaily.com.cn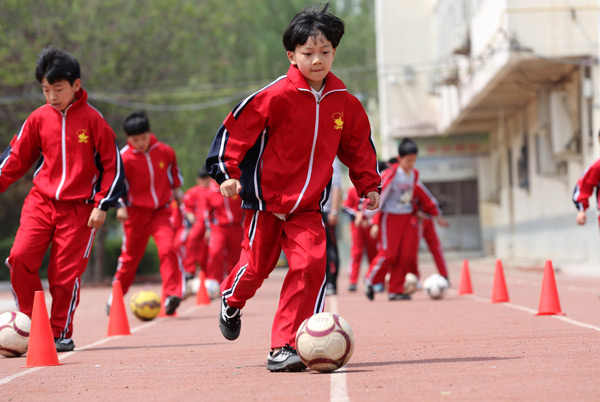 Students undergo training at the No 2 Experimental Primary School in Wenxian county, Henan province, in April. Xu Hongxing / For China Daily