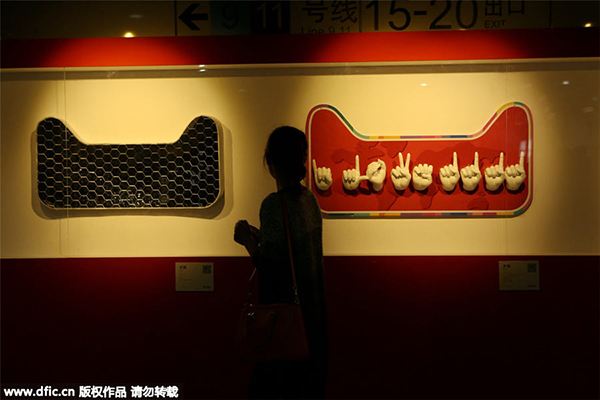 A visitor walks past art installations on display at the Shanghai subway, Oct 31, 2015. [Photo/IC]
Tuesday's opening of the huge Shanghai Disney Resort Metro station, with its cool design that blends both Chinese and Disney elements, is the latest reminder of how far Shanghai has travelled in building its subway system.
In a little more than two decades, Shanghai has built the world's longest subway system. Now the network, 617 kilometers in total, is larger than that in London, New York and Moscow, although it will be overtaken in a few years by Beijing which has an ambitious construction plan underway.
In Shanghai, the subway is an efficient and environmental friendly means of mass transportation for the 24 million residents in a city where streets are increasingly clogged by the growing number of cars and where air is often filled with car exhaust fumes.
The average daily number of rides on the Shanghai Metro has already exceeded 9 million and is on the way to hitting 10 million.
Yet while it is a great way to get around the city, the lack of etiquette on the subway has become a major hazard, especially during daily rush hours.
The great thing, compared with previous years, is that most people are finally lining up to get on the train, but that does not mean they will let people get off first. So you might most likely be pushed back into the car if you don't hurry up.
Although Chinese rarely hug each other, even family members, that is not the case in the Shanghai Metro. You will be forced to have free hugs from strangers in a packed car, which are so packed that some say you need to take a run up to get on.
Such intimacy is truly embarrassing and almost never happens in Washington and New York, where the rush-hour subway is also extremely crowded. The rule there is no direct body contact or even eye contact, plain and simple. If you bump into others by accident, you have to apologize.