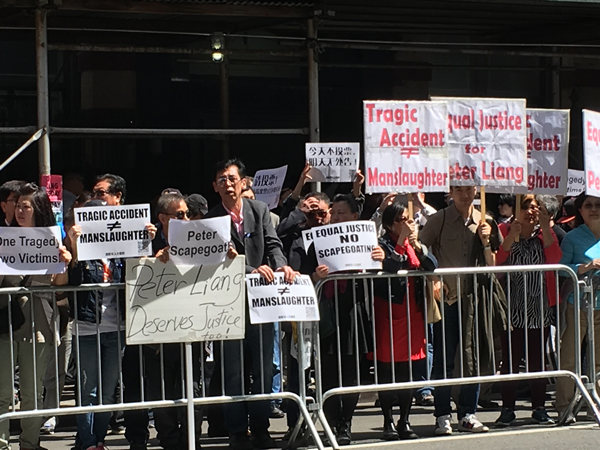 Protesters support former New York Police Officer Peter Liang outside a Brooklyn courthouse before his sentencing for manslaughter in the killing of Akai Gurley, in New York, April 19, 2016. [Photo/Agencies]
American Chinese police officer Peter Liang was found guilty of second degree manslaughter and official misconduct for the accidental death of an African American man Akai Gurley by a grand jury in New York on February 11. Liang did not mean to shoot Gurley. An inexperienced officer, he was in service for less than a year when he was assigned to petrol Louis H. Pink House at 2724 Linden Boulevard. There was no lighting in the building at the time. He had to hold a torchlight in one hand and his gun in the other. His inexperience caused him to discharge his weapon when he heard some fast approaching steps. The bullet from his gun bounced from the wall, and accidently killed the 28-year-old Gurley.
The American law allows right to possess arms. As a result, gun violence is a common occurrence in the US. It is not very uncommon that police officer exchange gun fire with suspects in the US. For that reason, American police officers are apt to shoot when they feel that their own life is at danger. Nine people are killed by police everyday on average in the US. Rarely have any police officers been held responsible for these deaths. This wanton violence has spurred several protests by African communities recently.
When the accidental death of Gurley took place, the African American community was understandably upset and angry. Too many of their people are targeted and killed by police in the country. They feel the injustice of the system toward their people. They wanted to see justice being done by punishing Liang.
But in the eyes of Liang and the Chinese community in the US as well as the defense lawyers, the officer was not guilty of the crimes he was charged with. He did not mean or intend to kill anybody. He discharged his weapon out of his lack of training and inexperience in a dangerous neighborhood and in dangerous circumstances. The property owners should have provided light in the buildings. The city police authorities should have provided better training for its officers, and should not send inexperienced officers to petrol dangerous neighborhood like that.
Therefore when the guilty verdict was announced on February 11, the Chinese community in New York City and elsewhere were incensed. They felt that the officer was being made a scapegoate to calm the African American community in the country already incenses by the police violence. Liang should bear the burden of police violence in the country for this accident. Therefore, the American Chinese community held a nationwide demonstration to air their support for Liang on February 19, 2016. This was the first time that the community had taken to the streets to protest over the injustice of the legal system.