The decision by a judge that enables former New York police officer Peter Liang to avoid jail time after shooting to death an unarmed black man was generally greeted with support from the Chinese and Asian communities and outrage in the black community.
State Supreme Court Justice Danny Chun on Tuesday sentenced Liang, 28, to five years of probation and community service after Chun took the rare step of partially setting aside the jury's verdict and reducing Liang's conviction from manslaughter to criminally negligent homicide.
Liang and his partner were on patrol in an unlighted stairwell in a public housing project in Brooklyn on the night of Nov 20, 2014, when Liang testified he heard a noise and his gun went off. A ricocheting bullet struck and killed Akai Gurley, 28, who was visiting his girlfriend, a floor below.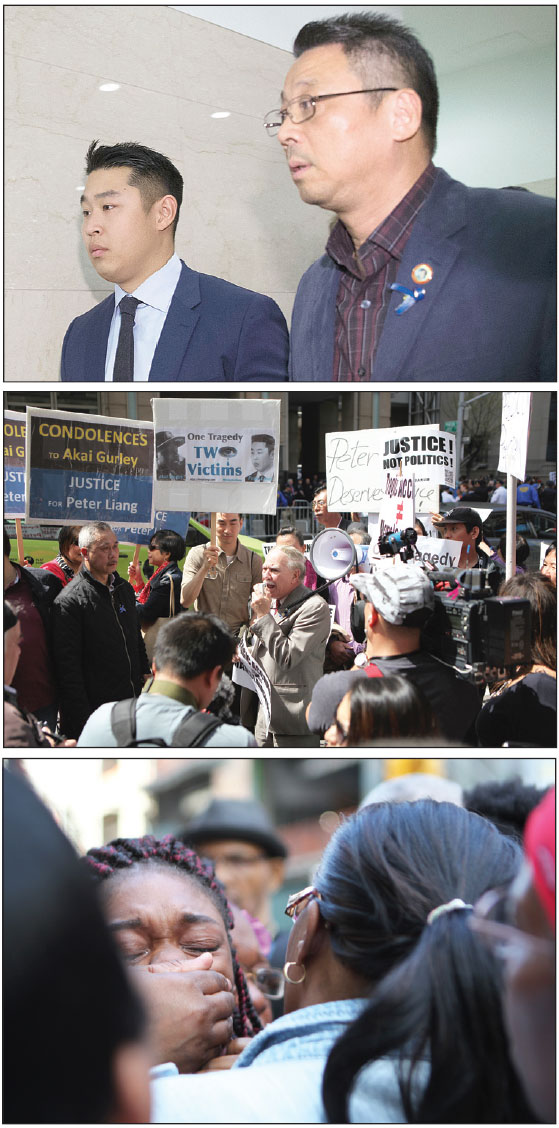 From top: Peter Liang (left) walks out the court after a judge sentenced him to five years of probation and 800 hours of community service. New York State Assemblyman William Colton speaks to Liang supporters outside the Kings County Supreme Court on Tuesday. Akai Gurley's family members cry and express outrage after Liang's no-jail sentence. Provided to China Daily and Hezi JIang / China Daily
In February, Liang was convicted of second-degree manslaughter and official misconduct and could have been sentenced to as much as 15 years in prison.
Chun said he made his decision in part after reviewing video of Liang entering the housing project where Gurley was shot.
"As I watched the video of the defendant entering the lobby of the Pink Houses, I couldn't help but feel he was entering with the serious mind of protecting the people. Shooting somebody never entered his mind. This was not an intentional act. There's no evidence that the defendant was aware of Akai Gurley's presence. I find incarceration to be unnecessary," said Chun.
Last month, Brooklyn District Attorney Ken Thompson said his office would not seek prison time for Liang. Instead he recommended that Liang receive five years of probation, including six months of home confinement.
After Chun read his decision to reduce the manslaughter conviction against Liang to the lowest-level felony possible and the sentence, Assistant District Attorney Joseph Alexis, who prosecuted the case, registered his objection.
"We disagreeA jury took more than two weeks and heard all the evidence. We believe this verdict was correct and we will appeal," he said.
Leaving the courtroom, Gurley's aunt, Herntencia Peteresen, called out in the hallway: "There is no justice. Akai Gurley's life doesn't matter, black lives don't matter. But justice will be served one way or another."
"Peter Liang's sentence sends a deeply troubling message that police officers convicted of killing unarmed African Americans will be held to a different, and more lenient, standard of justice than everyone else involved in the criminal justice system," Sherrilyn Ifill, president and director-counsel of the NAACP Legal Defense and Educational Fund Inc, said in a statement.
The indictment and prosecution of Liang, who is of Chinese heritage, created uproar among Chinese-Americans who said he was being made a scapegoat to compensate for white police officers not indicted in which unarmed black men were killed. They cited the cases of Eric Garner, a Staten Island, New York, man placed in a chokehold by police officers, and Michael Brown, a teenager shot by police in Ferguson, Missouri. Both deaths occurred months before the Gurley shooting.
After his trial and conviction, rallies organized primarily by Chinese-American groups in support of Liang were held in Chicago, Los Angeles, Philadelphia and other cities. Following the trial dozens rallied outside of New York police headquarters in support of the Gurley family.
"We are glad about the judge's decision, but we still stand behind the fact that this is an accident, not a crime," said John Chan, chairman of Brooklyn Asian Communities Empowerment, which has raised more than $300,000 for Liang and his family. "We support him to appeal the conviction."
"We are moving in the right direction, taking the steps toward justice," New York State Assemblyman William Colton said. Colton said Liang is "a scapegoat and a distraction" of the government's failure to address the "terrible, deplorable conditions" at the pink houses, such as the darkened staircase and high crime rate.
In a statement, New York State Assemblyman Ron Kim commended Chun for "rendering a difficult verdict in one of the toughest cases this city has faced in recent years. The pursuit of justice is all too often clouded by the pressures of politics and hampered by hyper-charged emotions on all sides."
New York police officers are rarely indicted by grand juries, much less put on trial, for deaths they cause in the line of duty. The most recent officer to be convicted of a line-of-duty killing was Bryan Conroy, who in 2005 was found guilty of criminally negligent homicide in the fatal shooting of an unarmed African immigrant, Ousmane Zongo. In that case, a State Supreme Court judge sentenced Conroy to five years' probation.
Hezi Jiang contributed to this report.
paulwelitzkin@chinadailyusa.com