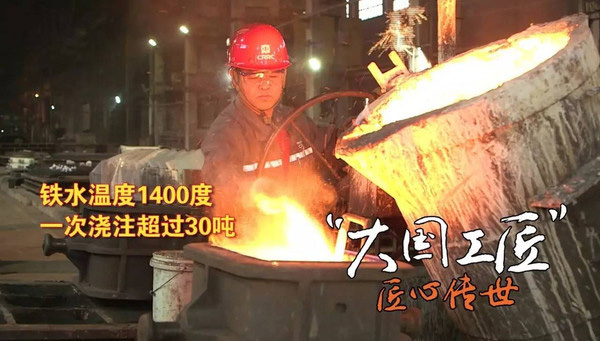 Mao Zhengshi supervises the whole pouring procedure of a furnace of molten iron, about 30 tons. [A still image from China Central Television]

No error
China has an honorary history of about 4,000 years in the casting industry after the ancestors started producing bronze products. A proverb says that one-inch error in cast products means nothing.
"The cast iron product could have a flaw with about 400 cubic millimeters, about the size of a thumb's nail, under the ultrasonic test in the past," Mao said. "But now, it should accord with the highest standard, no flaws."
To make it flawless, the crucial part was to control the temperature. To better control the temperature, Mao stares at the molten iron with bare eyes behind plain glasses, not professional goggles.
"The molten iron is around 1,400 C from the furnace. The temperature could differ at 50 C in pouring procedure in the past, but now we have to control the error within 10 C," Mao said.
"We judge the temperature with the bubbles. If its diameter is 2.5 centimeters, the temperature is between 1,380 C and 1390 C. We cast into the moulds. If the bubble reaches 3.5 centimeters, the molten iron has to return to the furnace."
Mao has also led his team to improve the casting procedures and technologies to reduce the ratio of products with flaws from 7 percent to 2.5 percent, lower than 3 percent at the developed countries.
In 2012, France's Alstom SA sought partners to provide cast iron turbines to replace the steel ones, a measure to cut cost, and at that time, few companies wanted to seal the deal because of the high quality demands.
The Dalian company finally signed agreements with Alstom on providing the cast iron turbines.
Guo Yong, the casting factory's director, said the company "dared to gain the deal, because it has a team of technicians, especially Mao Zhengshi."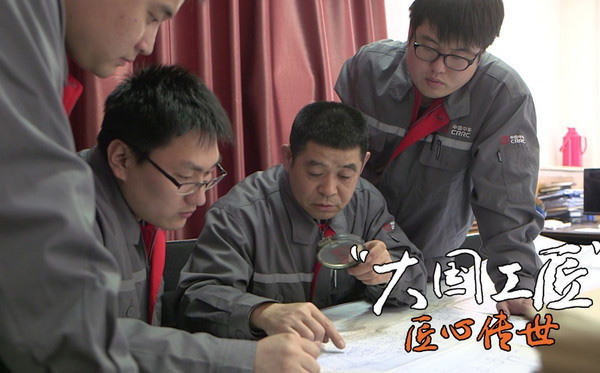 Mao Zhengshi teaches his apprentices. [A still image from China Central Television]