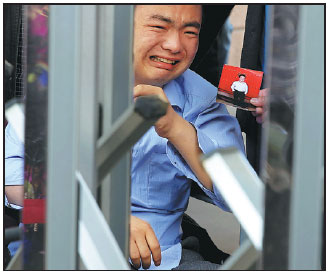 A patient weeps in front of the Second Hospital of the Beijing Armed Police Corps on Wednesday. Wang Zhuangfei / China Daily
The military hospital involved in a case in which a dying cancer patient accused search engine giant Baidu of providing misleading medical treatment information suspended all its services on Wednesday for a "thorough investigation".
The Second Hospital of the Beijing Armed Police Corps said it will respond by Saturday to requests from other patients seeking compensation, The Beijing News reported.
"Due to the hospital undergoing education and rectification, we will from today (Wednesday) temporarily suspend all external services," the hospital said in a notice. The services include emergency care, outpatient and inpatient services.
The People's Armed Police Force said it would cooperate fully with the investigation.
In a brief statement released on the Chinese military's news website, the force said it paid great attention to the case and had already sent its own team to the hospital.
Wei Zexi, a student at Xidian University in Xi'an, Shaanxi province, died in early April after receiving immunotherapy treatment at the hospital.
Earlier media reports and some patients claimed that the hospital said in its promotional material that the techniques it used for cancer treatment came from Stanford School of Medicine in the United States.
Jana Chow, manager for media relations at Stanford Health Care, said in an e-mail to China Daily on Wednesday, "Stanford Health Care and Stanford School of Medicine have no connection to this hospital, or to this case."
Becky Bach, Stanford School of Medicine's media specialist, said that Stanford has never had any cooperation with any Chinese hospital in the cellular treatment sector, including the hospital involved in the case. She doesn't understand why the hospital emphasized that the techniques were introduced from Stanford, according to Caixin magazine's WeChat account.
Wei was diagnosed with synovial sarcoma, a rare, often ternimal cancer of the soft tissue, in 2014 and his parents sent him to the hospital last year after learning on Baidu that the immunotherapy used there had been developed at Stanford and was very effective.
Wei disclosed this in an online post in February, two months before he died.
Families and relatives of patients who have received or are receiving similar treatment said they turned to the hospital after learning from websites or newspapers that the therapy is effective and had been introduced from the US.
According to descriptions on Baidu of the therapy used by the hospital, it treats diseases by extracting immune cells from patients, reproducing large numbers of them that are re-injected into the patient to kill a disease or virus.
Families and relatives of patients receiving the therapy at the hospital confirmed the descriptions.
The website of Stanford School of Medicine states that the school has immunotherapy programs, but the research is still at the clinical trial stage.