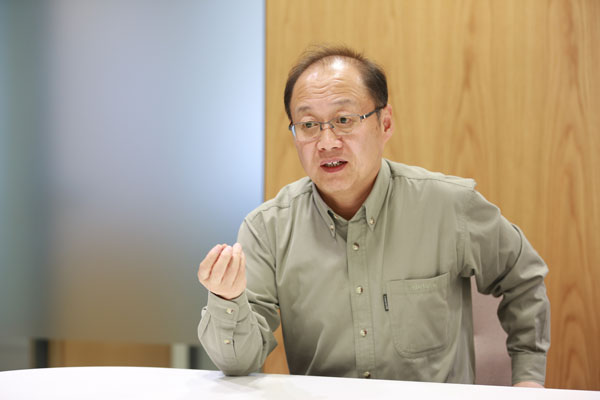 Fang Ning, director of the Institute of Political Science of Chinese Academy of Social Sciences, the country's leading think tank, isn't just taking part in running marathon for years to sharpen his perseverance and experience the joy of breaking through barriers but finding this to enrich his perspectives in observing China's social changes. [Photo by Song Wei/China Daily]
Six year ago, when Fang Ning, are renowned scholar of political sciences, decided to compete in a marathon during a sabbatical recess, it was still a novel concept for most Chinese to adopt this sport, with its challenges of endurance and intellectual stamina.
Now 59, but still fit and energetic, Fang sees that the numbers of Chinese taking up the sport has mushroomed as they join the streams of marathon runners heading for the many cities in China that now staged races. And some have even gone as far afield as Boston, London and other global cities to meet the challenges, joining foreign competitors.
However, Fang, director of the Institute of Political Science of Chinese Academy of Social Sciences, the country's leading think tank, isn't just taking part to sharpen his perseverance and experience the joy of breaking through barriers.
He finds it has enriched his perspectives as he observes China's dramatic social changes, brought by rising economic clout over the past few decades.
"This is reflected in a surprising increase of freedom of choices among individuals, who have grown wealthier along with China's modernization process," says Fang,who wears sports shoes and a casual jacket as he prepares to take a long walk along the River Thames after the interview with China Daily in downtown London recently.
"I have sensed such rapid change in China," he says.
Fang was among a group of Chinese scholars introducing the English language versions of their books about understanding China, which focuses on political and economic systems, social welfare, energy, environment and other topics essential to China's development.
In his books, Fang focused on China's democratic process in previous years, which he believes mean the country has gathered many unique experiences tailored to its economic and social circumstances and cultural heritage.
"In terms of building a democratic country, we are still on the way to forming a China model while gathering rich experience," says Fang, who used to be a professor in the Beijing-based Capital Normal University.
His academic capacity was spotted by a senior Party leader through his research on China and globalization in the beginning of the 21st century, and he transferred to the Chinese Academy of Social Sciences.
In recent years, he was chosen to give lectures to China's highest leadership and in 2013, Fang was even talking about China's historic experiences on fighting against corruption at a lecture chaired by President Xi Jinping.
During the interview, Fang was eager to elaborate on the social changes in China.
He says the people's increasing passion to challenge their limits is just part of this process, which will speed up when China's goal of doubling its per capita of income from 6,000 dollars in 2020 to 12,000 dollars is reached by 2020.
"The changes will be huge and more Chinese will be choosing to fall in love with sports which challenge their limits by then," says Fang.
Running marathons frequently has made him so energetic that four or five hours of sleep every day is enough.
While the Chinese people are becoming better off, according to Fang, another positive change is that more and more people will be becoming fond of cultural activities and performances, which China's leadership should receive more attention.
"I should say such trends are very evident now, and the government should help live up to the expectations and demands of the people by investing in facilities and financially supporting cultural activities, even in the education curriculum," says Fang.
"This should also link into the development of digital technologies."
Fang says smart phones and wireless technologies have transformed the means for ordinary people to consume cultural products, which are now more easily accessed.
Fang says all the positive changes which China is now undergoing,while becoming a country of medium and higher income, are "phenomenal" compared with the situation during his childhood and youth period, when China was a country dominated by poverty and shortages.
"During that period of time, simply speaking, you had nothing to choose because of the scarcity of material things in life."
Fang says the increase of what he called "individual choices" to satisfy the demands of the people will serve to maintain social stability; China's current systems at political, economic and social levels have helped empower people with such "freedoms of choice."
"Now, our systems have ensured such freedom and with the political and social reforms deepening, such freedom of choice will be further explored," says Fang.
But due to the massive size of the population, Fang still says China's democratic reform should be implemented cautiously, step-by-step.
"Some may not agree with me but I am always thinking about implementing social reform, because we could not afford to make mistakes in this country," says Fang. "So we must be cautious when designing reform schemes."
However, Fang is also concerned about the "negative sides" of this social transformation brought by modernization and industrialization.
He has listed two.
One is the drug problem, which is endemic in many industrialized countries and has become a headache for governments.
"Many in developed countries have become addicted to drugs, which is a kind of means to show freedom and a sense of self, and our leadership should be alerted by this trend in a society of abundance," says Fang.
Another trend, Fang says, is the rising rate of divorce. Official numbers indicated that in 2014, about 3.63 million couples have separated, against 2.87 million couples in 2011.
"In the past, when couples were in poverty, it was hard for them to separate and many were bound together merely to support a family," says Fang.
"And now, the couples have fewer extra worries and it is easier for them to leave each other once they find they could not tolerate each other."
But Fang says the social implications of the rising trend of divorces should be noticed.
Fang also says the Chinese leadership's determination and iron-fist approach to fighting corruption is a dominating development of this country during past three years after Xi took office as the highest leader of the Party and the state.
"To ensure the success in this regard, China has made breakthrough in strengthening the power of supervision within the Party and the state," says Fang. "And this is also in line with the trends of development in industrialized countries."
China's political system has brought the powers of administration, law-making and jurisdiction under the leadership of the Communist Party of China.
"Now the power of supervision has been beefed up in China, which aims to ensure a smooth law enforcement and a means to tackle corruption effectively," says Fang.
Within the Party, the power of the related departments in charge of discipline and inspections, and for the government, the power of the departments in charge of supervision have been strengthened, says Fang.
At the same time, the Party has achieved reform by sending inspection teams to nearly all departments and organizations at various levels to find clues of corruption and "clean the houses" of Party units.
"All the new measures have brought corruption under control," says Fang.
But he says in the years to come, the power of supervision will further be boosted within the Party and state.
"Supervision within all the political and economic activities is curbing corruption, and such power has achieved a certain independence " says Fang.
"I personally believe this is the biggest political change since Xi Jinping led the Party and the country."
Fang says the departments in charge of discipline and supervision will be increasing their headcounts in China.
To decrease financial burdens, Fang says China needs to further deepen the reform of its institutional organizations, which have mostly been supported through fiscal means.
Now, Fang is leading a team in Shanghai and Chongqing municipalities to reform subsidiaries of the municipal governments.
"We need to reduce the redundancy and decrease the fiscal burdens of the government while increasing the headcount in helping to ensure discipline inspection, law enforcement and finding clues of corruption," says Fang.
"These measures are essential for healthy development of China."