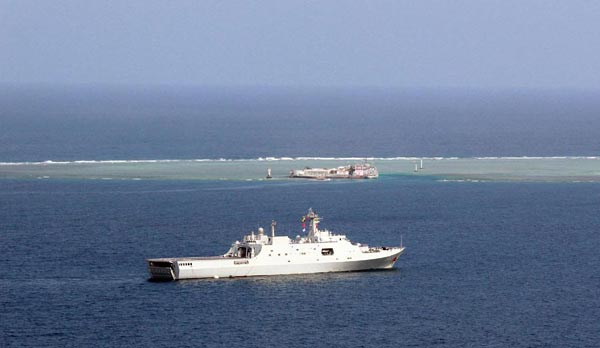 A formation of the Nanhai Fleet of China's Navy on Saturday finished a three-day patrol of the Nansha islands in the South China Sea. [Photo/Xinhua]
Japan should not constantly show its "sense of presence" which is displayed "almost in a paranoid way" on issues concerning the South China Sea, the Foreign Ministry said on Wednesday.
"On the South China Sea issue, Japan is a country outside the region. But recently, it has constantly shown its sense of presence on the issue, almost in a paranoid way," ministry spokesman Hong Lei said at a regular news conference in Beijing.
Hong made the remarks when asked to respond to Japanese Prime Minister Shinzo Abe and Foreign Minister Fumio Kishida's comments on the South China Sea during recent overseas engagements.
Kishida, during a visit to South Asian countries, said it is important for ASEAN to demonstrate uniformity toward China's maritime presence in the South China Sea.
Hong said Japan's "sense of presence" only reminds people of its illegal occupation of South China Sea islands during the World War II, and its agenda on the South China Sea issue.
We urge Japan not to continue to do so, he added.
About 50,000 people rallied in Tokyo on Tuesday to mark the 69th Constitution Memorial Day to protest against Abe's attempts to amend the nation's pacifist constitution.
Hong said for historical reasons, Japan's behavior has been attracting the attention of its Asian neighbors.
China "hopes that Japan could earnestly learn from the lessons in history" and "listen to the outcry of the public who love peace", Hong said.
"We hope that Japan could adhere to the path of peaceful development and make constructive contributions to regional peace and stability," he added.

mojingxi@chinadaily.com.cn