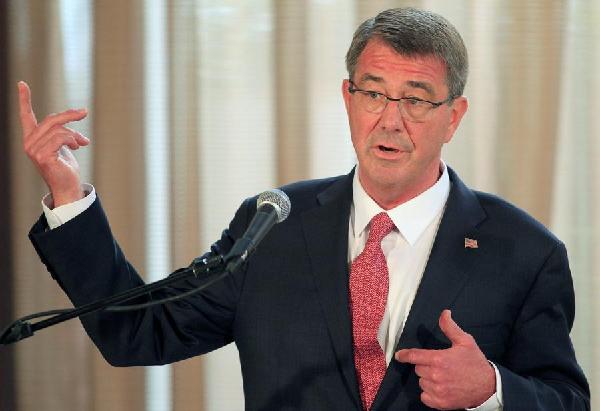 Visiting US Defense Secretary Ash Carter gestures during a joint press conference with his Filipino counterpart Voltaire Gazmin (not pictured) at the presidential palace in Manila April 14, 2016. [Photo/Agencies]
The Foreign Ministry has voiced a "resolute opposition against infringement of China's sovereignty and security by any country in any form" after the Pentagon said the US-Philippine joint patrols in the South China Sea will occur regularly in the future.
US Defense Secretary Ash Carter confirmed on Thursday that the US and the Philippines had conducted such patrols.
"The military exchanges by relevant countries should not target a third party, not to mention supporting some countries to provoke against China's sovereignty, its security, and flaring regional contradictions while damaging regional peace and stability," said a spokesperson for the Foreign Ministry in a written response.
"Beijing will follow the relevant developments. The South China Sea situation generally maintains stability with joint efforts by China and relevant countries," the response stated.
Carter made the confirmation at a joint news conference with Philippine Defense Secretary Voltaire Gazmin in Manila. Carter met with Philippine President Benigno Aquino earlier that day.
According to Reuters, and international news agency, the Pentagon said the first joint patrol occurred in March, and a second one took place earlier this month.
Chinese experts say the patrol showcased the US's hypocrisy over the South China Sea issue and its plan to sabotage peace and stability in the region.
Carter visited the US treaty ally on Wednesday amid the ongoing annual US-Philippine Shoulder-To-Shoulder 2016 military drill.