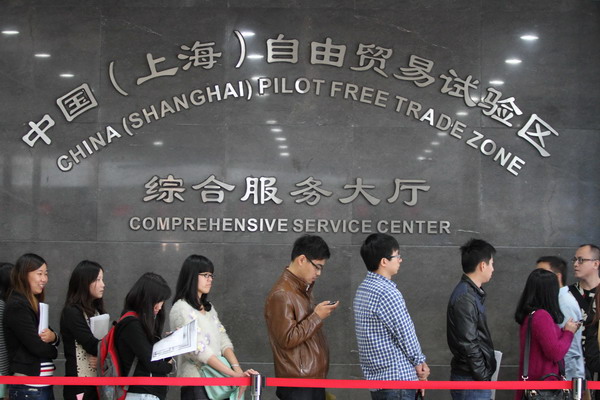 People queue up at the China (Shanghai) Pilot Free Trade Zone's service center. Banks within the zone can now conduct renminbi cross-border settlements for transactions involving the current account and direct investment business. Xu Congjun / for China Daily
Free trade zone, new talent helping city become global economic hub
Shanghai's financial sector grew 13.7 percent last year, a significant boost for China's biggest municipal economy as it strives to become a global financial center by 2020.
The Shanghai Bureau of Statistics said on Sunday that the city's financial sector generated 282.3 billion yuan ($46.66 billion) in revenue in 2013. The 13.7-percent growth is 1.1 percent higher than the sector's growth rate in 2012.
Shanghai's economy grew by 7.7 percent — the same rate as the national average — and generated 2.16 trillion yuan in revenue.
Trading volume for the Shanghai Stock Exchange jumped 39.9 percent to 23.03 trillion yuan despite a freeze in IPOs. The Shanghai Futures Exchange's trading volume grew by 35.5 percent and made 120.8 trillion yuan in revenue; the Shanghai Gold Exchange saw its trading volume grow 48 percent to 5.22 trillion yuan.
The latest financial prosperity index published by the Shanghai Financial Association registered a reading of 3,076 points, up 8.4 percent from the end of 2012. Shanghai's financial sector now employs 230,000 people.
Economists believe the city's financial sector is going to grow even more this year, while Shanghai Mayor Yang Xiong estimates the city economy will grow by 7.5 percent. A series of reforms in the landmark Shanghai Free Trade Zone, including changes to capital accounts and interest rates, are expected to add new sources of growth to the financial sector.
"The reforms will no doubt be a boon to the city's financial sector. But whether the zone will be counted as part of Shanghai or as an independent administration when growth figures are calculated this year is unclear," said Chen Bo, a professor of international trade and economics at Shanghai University of Finance and Economics.
Mayor Yang said at a news conference on Thursday that he "doesn't care too much" about the zone's contribution to Shanghai's GDP. His focus, he said, will be on how the zone can help Shanghai realize its goal of becoming a global economic hub of finance, shipping and trade by 2020.
"We have yet to calculate the free trade zone's contribution to Shanghai's GDP. Of course, there will be some contribution," Yang said.
The People's Bank of China, China's central bank, released a detailed guideline in December to pinpoint which financial reforms will be tested in the free trade zone.
One of the reforms promises that individuals will be free to carry out cross-border transactions using funds earned in the zone. Other policies include allowing qualified financial institutions in the zone to trade large-scale certificates of deposit. Qualified companies and individuals in the zone will also be allowed to borrow yuan abroad, although those funds can't be used to invest in securities or derivatives or to make loans to other parties.
Another positive sign for Shanghai's financial sector is the recent inflow of talent. According to British recruitment agency Hays, competitive salaries in the city draw some of the best talents in the financial industry.
A salary guide by Hays shows that a risk analyst with a Shanghai-based hedge fund earned up to 800,000 yuan last year, 46 percent more than a counterpart in Hong Kong. A director at a mainland private equity fund earned as much as 2.5 million yuan, while a similar position in Hong Kong paid only around 2 million yuan.