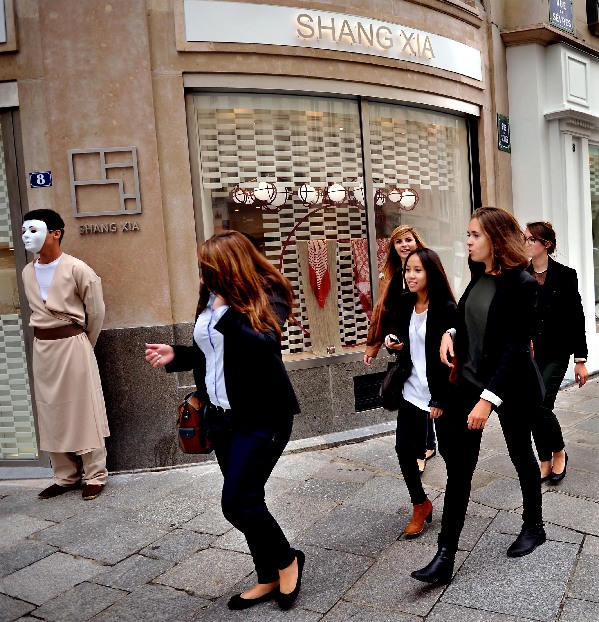 A store in Paris offers Shang Xia products, a luxury label created by Hermes in China. There are also Shang Xia stores in Beijing and Shanghai. Trade between the European Union and China hit $559.06 billion in 2013, up 2.1 percent year-on-year. [Photo/Xinhua]
China and the European Union on Tuesday started the first round of negotiations to forge an investment pact as both sides expect to open a new decade of ties between the two economies, officials said.
"The first round of China-EU bilateral investment treaty negotiations took place on Tuesday in Beijing and will last for three days. The two sides will exchange views on the arrangement of the following negotiations and the issues that could be covered by the negotiations," said Shen Danyang, spokesman for the Ministry of Commerce.
A China-EU investment pact will boost two-way investment and enhance the China-EU Comprehensive Strategic Partnership. It is also an important move for China to build an open economy, Shen added.
"Both sides agreed, through the establishment of the investment pact, to provide a steady, transparent, predictable and open legal framework for investors from the two sides. As the EU's economy picks up and the investment pact negotiations get on track, we have reasons to believe that China-EU economic cooperation will develop faster and better in 2014, thereby opening a new decade of the partnership," Shen said.
China and the EU agreed to launch negotiations for an investment agreement in February 2012. In October last year, the EU's member states gave the European Commission a negotiating mandate and, on Nov 21, the launch of negotiations was announced at the 16th EU-China Summit.
The EU sees an investment agreement with China as an important element in closer trade and investment ties between the economies, a news release from the European Commission stated.
"The current level of bilateral investment between the EU and China is way below what could be expected from two of the most important economic blocs on the planet. Whereas goods and services traded between the EU and China are worth well over billion euros every day, just 2.1 percent of overall EU foreign direct investment is in China," said John Clancy, EU Trade spokesman.
"The main purpose for these negotiations is the progressive abolition of restrictions on trade and foreign direct investment and to improve access to the Chinese market for EU investors."