Consumers more aware of their rights but overreaction can also be a problem, reports Shi Jing in Shanghai.
If the hamburger you bought at McDonald's was too spicy for your taste, what would you do? Try to quell the spice to make it more digestible or call the police for help?
Most people would feel there was little point in making a fuss, but one customer in a Guangzhou outlet of the burger chain opted for the second choice.
McDonald's compensated him with another set meal. But the incident, which took place in August, was recorded by another customer and posted on Sina Weibo, instantly attracting more than 3,000 reposts and 200 comments.
Some people said they would follow his example, but others wondered why he had resorted to calling the police and many accused him of overreacting and wasting public resources. Meanwhile, airline passengers also felt they had cause for complaint.
On April 11, some 20 passengers blocked the runway at Shanghai's Pudong International Airport preventing a plane from leaving, simply because their own flight had been delayed because of the weather.
A copycat case occurred at Baiyun International Airport in Guangzhou two days later, and on Aug 6, more than 30 passengers whose flight had been delayed by heavy rain got onto the runway in Kunming's Changshui International Airport, and blocked a plane.
The dispute was settled only after the airline promised to provide each passenger with compensation of 500 yuan.
As long ago as 2007, Spring Airlines, the Shanghai-based budget carrier, published a list of customers it would not serve.
The company said its action was prompted by a wish to avoid cases and also to protect the rights of the vast majority of passengers. The move won some applause but also attracted harsh criticism.
One of the Pudong protestors, who would only give his name as Meng, later told Dragon TV in Shanghai that the passengers had been held up for more than 20 hours and were extremely frustrated.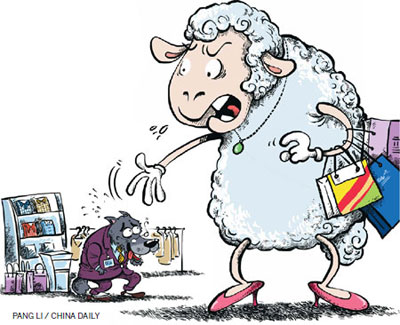 "The airline blocked all other possible solutions; we could not return our tickets. We were just left to wait. We only took this extreme action in the hope of gaining the attention of the authorities," he said.
Wang Anbai, a professor of ideological and moral culture at the school of politics and public administration at Southwest University of Political Science and Law, told Xinhua News Agency that cases such as this reflect the difficulty consumers encounter when they try to demand their rights.
"Airports belong to the incomplete competitive industry. In a seller's market, consumers always find it hard to protect their rights. When flights are delayed, airlines think of their own rights first, instead of protecting the customer. That makes consumers resentful. Because of the lack of a proper outlet for appeal, consumers are forced to go to extremes," he said.
"We have great respect for consumer rights. Honestly, no businessman wants to offend his customers. What we have done has won support from most customers, and we promise we will never seek retribution afterwards," wrote Wang Zhenghua, the chairman of Spring Airlines, on his Sina Weibo account.
He insisted that the company has never used the word "blacklist" in any of its statements. They will also go through a lengthy process to get to the core of the complaint and staff are required to provide the customer service and service quality control departments with a full description of any contentious incidents, including the customer's version of events. The number of such customers is quite small, accounting for, at most, three out of every 100,000. What's more, as long as they are prepared to publicly accept that levels of service can vary between airlines, their names will immediately be deleted from the list.
"We only compiled the list because we don't have a better solution. We simply feel incapable of serving certain customers who have been excessive in protecting their rights. Sadly, we will have to keep implementing this policy," said Wang.
Fortunately, not all consumers are as aggressive. According to a recent survey conducted by Sina Weibo, around 60 percent of the 10,835 people interviewed supported the airline, saying it has the right to refuse business from customers who have acted in an excessive manner. However, roughly 36 percent of respondents felt that the airline had infringed on passenger rights by imposing an imparity clause.
At present, Chinese law does not define what "excessive protection of consumer rights" actually means.
"There is no such term as overprotection of consumer rights in any current law. But the phrase is heard frequently in the Chinese media. It implies a process of legalization. Chinese consumers have taken quite a long time to develop an awareness of their own rights, but since the reform and opening-up policy came into force in the late 1970s, celebrities have helped to accelerate the process by launching a number of legal cases to protect their image rights," said Wang Zhong, a lawyer at the Shanghai branch of the law firm Zhong Yin.
He admitted that it's hard to define "overprotection" of rights with any real legal accuracy and so only a rough definition exists.