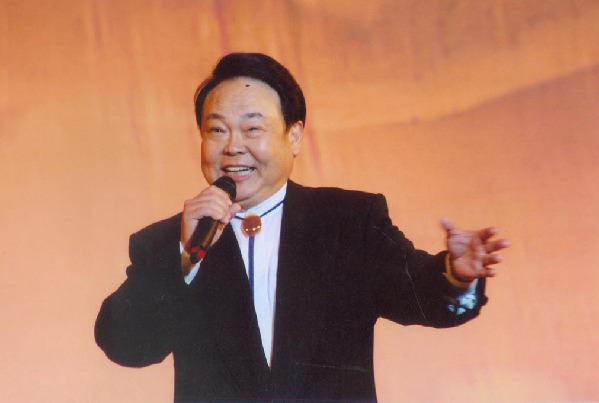 Liu Shiming performing on stage[Photo provided to chinadaily.com.cn]
"After the recording I had to rush for performances outside Beijing. Upon my return home days later, I found that hutong peddlers and small shop owners were singing my song," Liu says. "That was indeed pleasant and satisfying."
Liu's performance starts with a balanced pace of fluid and steady notes, dotted with folk twittering of sounds. "Your rich, rotund and limpid voice leads us down a valley and to winding streams jumping along rocks behind young greens in a fresh, clear morning of early spring," noted Zhao Junyu, a high school history teacher in a web blog. "Then the following group of function words of "ai lai haihai" seems to be guiding the listener through a delicate Chinese garden with turns after turns, each of which displays a surprising scene of fragrant flowers and calm pool with fish at the bottom."
As a matter of fact, "that song was especially composed for me to sing by Lv Yuan and Cheng Kai," Liu says.
Lv is one of the best composers in contemporary China. "He understands the timber of my voice and my singing style that is a fusion of folk song and traditional opera singing with bel canto control of the larynx and breath," Liu says. "He called me right away after finishing the tunes and said, "Young Liu, this is exactly for you'."
After reading the music sheet, Liu exclaimed, "this song is really in folk style!"
The flow of verses in the first part originates from folk style of eastern Liaoning province but the following function words "must be sung in a coherent but very sticky style of singing in shadow puppet play of Tangshan region in Hebei province," Liu says, which twists and turns and seems willing to play with each note but is rarely practiced among singers. Liu's voice then soars freely and vehemently to a mount before a gentle glide to a playful penchant, imprinting a touch of inexhaustible inspiration even after the last orchestral strike.
Liu indeed adores the tune that suits him perfectly. "I've put my soul in it," he says. "I have carved my years of singing techniques into the singing, trying to make every character felt and every note an expression of life."
His godson,Donald Li,who has spent years taking care of his life and travels apart from duties as a movie director, agrees but points out, "It is my godfather's mature musical abilities that has eventually projected him to nationwide stardom for the past three decades."
Others put it differently. "Many people, not just friends in the arts circles, just call him the wooden-fish stone," Li said. Some blogs created by his fans point out that the characters used in the name of Liu Shiming contain both wood and stone. He was even donated jade and other stones to carry during performances, and he carefully strung one with long red or brown threads, wearing them as a special necklace against the background of white shirts.
"Liu Shiming is just that precious jade that can sing," they would write or shout during performances.