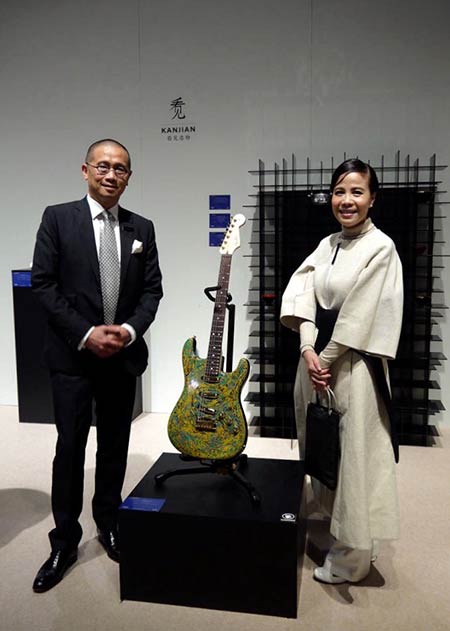 Musician Zhu Zheqin (right) and Kevin Ching, CEO of Sotheby's Asia, before the 'azure dragon Stratocaster' displayed in Hong Kong. Photos Provided To China Daily
Chinese musician Zhu Zheqin, also known by her stage name Dadawa, has traveled extensively to the country's remote and border areas with a focus on preserving ethnic music and handicrafts.
The tours, which she undertook in her capacity as the United Nations Development Program Goodwill Ambassador in China in 2009, resulted in many concerts and records, where she was able to give ethnic musical elements a modern context.
But what many may not know is that the tours also led to the birth of Kanjian (which means seeing in Chinese), a design brand that Zhu established in 2012 to use contemporary design to enliven traditional Chinese crafts.
"I was not only inspired by ethnic music during the trips but also by handicrafts. I learned about paper-making and silver ware. These crafts amazed me," Zhu tells China Daily in an e-mail interview.
So, after completing her UNDP appointment, she founded Kanjian to popularize handicrafts and traditional lifestyles. This enabled designers from China and abroad to collaborate with traditional Chinese craftsmen.
Meanwhile, Zhu has produced the brand's latest product, an "azure dragon Stratocaster" electric guitar.
The instrument took nine months to make, during which time Dennis Galuszka, from the US stringed instrument manufacturer Fender, built the guitar and Zhong Sheng, a Beijing master of lacquer art, hand polished the body, giving it vivid, eye-catching lines.
It's now on display at an exhibition in international auctioneer Sotheby's Hong Kong space, together with dozens of other Kanjian products, including tea sets, vases, pottery and furniture. The display lasts until Wednesday.