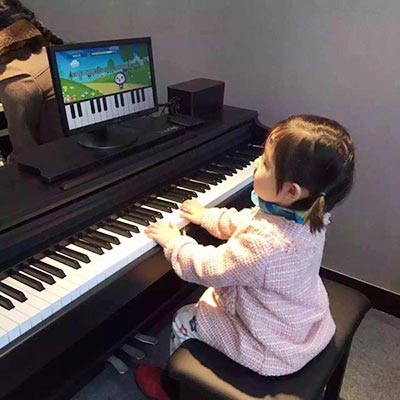 A girl practices piano. [Photo provided to China Daily]
A piano teaching system that adds fun to the lessons was launched in Beijing this week.
Developed by The One Smart Piano, a company based in Beijing, the system has received funding from well-known pianist Lang Lang and Google China's former chief Kai-Fu Lee.
The first version of the system went online in 2014 but was mainly used by adults.
The new product "Piano Plus" features spruce-made solid board with different thicknesses, six unequal-pitch dorsal columns and dragon spruce keyboards from Austria.
It costs 23,800 yuan ($3,670).
The company's previous "smart" pianos are still available for roughly 4,000 yuan. A total of 35 million of those systems have been sold since the October 2015 launch.
The new product is an upgrade and offers quality music life and enables users to become pianists with taste, its founder Ye Bin says.
The system, which uses American teaching techniques, makes the piano learning experience similar to playing video games.
Piano learners can reach the fourth or fifth level of the China Central Conservatory of Music by the time they finish all the courses, the company says.
The system can also help people who want to start a piano-teaching business. It has won support from the conservatory's vice-president Zhou Haihong, who says his dream of popularizing piano with the public can be realized by the system.
Related:
Beijing now on global music map with Rubinstein contest