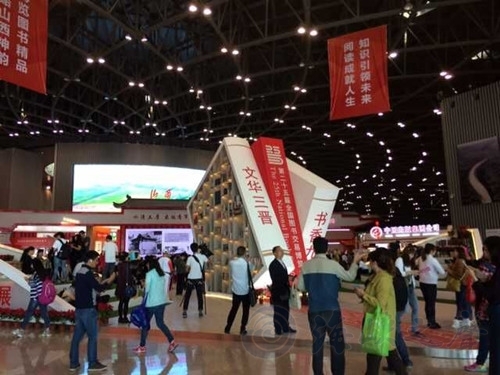 The 25th National Book Expo held in Taiyuan, capital of Shanxi province. [Photo/chinanews.com]
The 25th National Book Expo came to a close Sunday in Taiyuan, capital of West China's Shanxi province. During the three-day Expo, 250,000 books were on display to the public, and almost 200 reading activities were held.
Details of the Expo show new trends in Chinese publishing circles. While the country is facing a reading crisis, publishing companies are looking for breakthroughs in order to gain more readers in the internet plus era.
Publishers factoring risk for Expo, less is more
More and more press companies decreased the number of books on display. But with a lack in quantity comes a plus in quality of the books. Publishing companies are looking to strenghten its marketing schemes, especially the noted time-honored press companies.
In the past, Jiangsu People's Publishing Ltd. used to display more than 500 books during the Expo. This year, they put up around 200 books. According to Hu Delin, assistant director at Jiangsu People's Publishing Ltd., the main purpose of the Expo is to show products and exchange experiences with other companies. In that case, only the most competitive products can win public attraction.
"Press companies are becoming much more calculative. If they bring in too many books, they risk losing the book's condition with transportation issues. If the books are damaged they won't attract readers, and they become a waste," said Hu.
SDX Joint Publishing Company and Zhonghua Book Company also reduced the number of books on display only putting up latest best-sellers or books that have been recently published.
Yu Wenjun, vice director of Zhejiang People's Publishing Ltd. said, "nowadays, publishing companies are developing fast in traditional bookstores and online bookstores; but the fact is less new books are hitting the shelves. Without key products, your company will be neglected by both the readers and bookstores."