A delegation of Chinese publishers is attending the 2015 Book Expo of America from May 27 to 31 in New York as a guest of honor for the first time.
Established in 1947, the expo is one of the world's most important exhibitions of publications and also the largest and most influential event of its kind in the United States.
As the guest of honor this year, China has sent about 340 employees from 150 publishing houses. They will organize nearly 130 activities during the five-day expo, including cultural exhibitions, forums and promotional campaigns, China Press and Publishing Journal reported.
One highlight of the expo will see 25 renowned Chinese writers, including Liu Cixin, Liu Zhenyun and Mai Jia, meet their international readers and a group of foreign writers.
China International Publishing Group, one of the attendees, has been participating in international book expos for years. Established in 1949, the group is the country's largest foreign-language publishing and distribution organization, and provides the latest information about China to readers worldwide through print and Web publications.
Fang Zhenghui, deputy head of the CIPG, told china.org.cn that they selected 865 books for the expo in Chinese culture and literature, Chinese language learning, traditional Chinese medicine and children's books. Of that total, 817 books have been translated into nine foreign languages.
Fang said seven publishing houses from the company plan to export the copyrights to 200 of their books during the expo.
The company has a 60-square-meter independent exhibition hall, in addition to two booths provided by expo organizers, that can display up to 900 books.
One of the company's promotional events will exhibit Xi Jinping: The Governance of China, a compilation of the Chinese president's writings and speeches from November 2012 to June 2014.
Issued late last year, the book introduces his ideas, methods and directions for China's development and the country's domestic and foreign policies. A total of 4.5 million multilingual copies have been printed.
China's publishing industry has gained more exposure in recent years through the attendance of international book fairs, said Li Xueqian, head of China Children's Press and Publishing Group, People's Daily reported.
"In the past when we attended an international book fair, I would rarely see a foreign publisher in our booth. Now, many will find us to both recommend their books and talk about the import of copyrights of our books," Li said.
The China Children's Press and Publishing Group exported 57 copyrights in 2013 and 143 copyrights in 2014.
Last year, China exported more than 10,100 copyrights of homegrown books, with the proportion of imports and exports of copyrights reduced from 1.76:1 in 2013 to 1.66:1, according to the State Administration of Press, Publication, Radio, Film and Television.
Many Chinese publishers have also begun to acquire overseas publishing houses.
In 2014, Phoenix Publishing and Media Group completed China's largest acquisition in the industry, purchasing a publisher of US children's books for $85 million.
Guangxi Normal University Press Group acquired an Australian publishing house and its copyrights for $2 million last year.
"Acquisitions are one of the best ways to strengthen yourself. It can help take advantage of experiences from foreign companies and form our own global layout," He Linxia, president of Guangxi Normal University Press Group, told People's Daily.
haonan@chinadaily.com.cn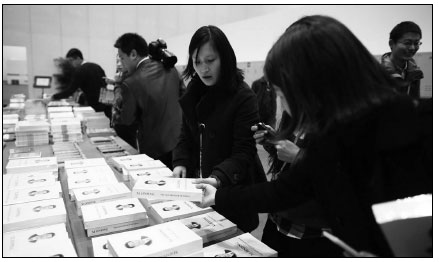 Xi Jinping: The Governance of China, published by China International Publishing Group, on display at the APEC meeting in Beijing last November. Provided To China Daily
(China Daily 05/27/2015 page17)