Russia banned from Pyeongchang Winter Olympics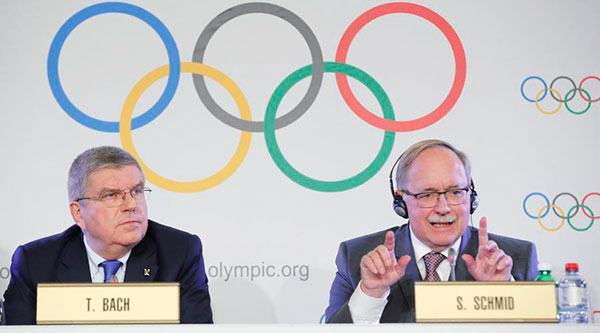 Samuel Schmid, right, Chair of the IOC Disciplinary Commission, and Thomas Bach, President of the International Olympic Committee, attend a news conference after an Executive Board meeting on sanctions for Russian athletes, in Lausanne, Switzerland, Dec 5, 2017. [Photo/Agencies]
GENEVA - The International Olympic Committee on Tuesday banned Russia banned from the 2018 Winter Olympics set for next February in PyeongChang, South Korea, over doping concerns.
The IOC decided to suspend the Russian Olympic Committee (ROC) with immediate effect, but Russian athletes would still be able to compete at the PyeongChang Games in uniforms bearing the name "Olympic Athlete from Russia" under the Olympic Flag, and the Olympic Anthem will be played in any ceremony.
Samuel Schmid, former Swiss president leading the investigation commission, said an over-17-month IOC investigation has "confirmed the systemic manipulation of the anti-doping rules and system in Russia during the Olympic Winter Games Sochi 2014, as well as the various levels of administrative, legal and contractual responsibility".
"This was an unprecedented attack on the integrity of the Olympic Games and sport," said IOC President Thomas Bach. "As an athlete myself, I'm feeling very sorry for all the clean athletes."
The IOC "has issued proportional sanctions for this systemic manipulation while protecting the clean athletes. This should draw a line under this damaging episode and serve as a catalyst for a more effective anti-doping system led by the World Anti-Doping Agency (WADA)," he added.
But Russia has denied state-sponsored doping scheme alleged by WADA report.
The Russian Investigative Committee said in a statement earlier in November that "the investigation had obtained data that WADA lacked any evidence of Russia's guilt in the mass use of doping by athletes."
Vitaly Mutko, Russian then-minister of sport during 2014 Sochi Olympics, and his then-deputy minister Yuri Nagornykh were both excluded from any participation in all future Olympic Games, the IOC announced.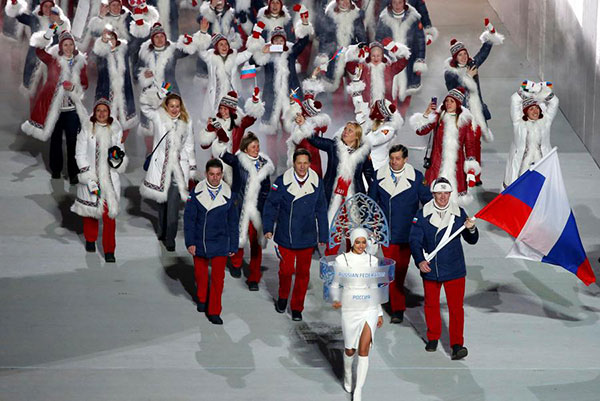 Russia's flag-bearer Alexander Zubkov leads his country's contingent during the athletes' parade at the opening ceremony of the 2014 Sochi Winter Olympics, Feb 7, 2014. [Photo/Agencies]
State television will not broadcast Winter Games
Russian state television holding VGTRK said Tuesday it would not broadcast the 2018 Pyeongchang Winter Olympics in the absence of Russia's national team, Interfax news agency reported.
Alexei Kravtsov, president of the Russian Skating Union, said: "The decision is offensive, insulting and completely unjustified. I consider that this decision will deal a great blow to the whole Olympic movement."